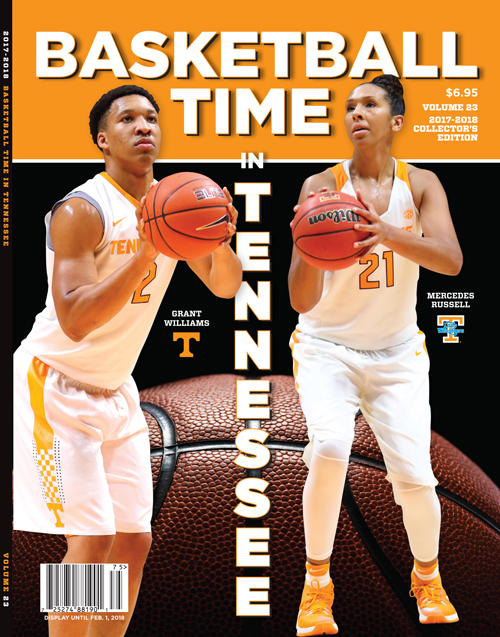 Magazines should begin shipping between October 27th and October 30th. They will begin appearing on newsstands around that date. To order the 2017-2018 edition of Basketball Time In Tennessee Magazine just click on the Add to Cart button to purchase with a credit/debit card or send a check (or money order) for $15.00 and return address to:
Sports Time Publishing
P.O. Box 5464
Knoxville, TN 37928
(Includes priority mail delivery)
Questions? Email sportstime@mindspring.com or call 865-687-9716.
This year's magazine is 96 pages featuring the 2017-18 Vols under the direction of third-year Head Coach Rick Barnes and sixth-year Lady Vol Head Coach Holly Warlick.  As always, our magazine includes exclusive feature stories and a host of beautiful color photos. Follow the Vols and Lady Vols as they strive for championships this season.
If you like "Football Time in Tennessee" magazine you'll love this one!
SPECIAL FEATURES INSIDE INCLUDE:
Basketball Time's All-America and All-SEC Teams
Basketball Time's Top 25 Teams
Across the Pond to Get Pons
Vol 2017-18 Season Outlook
Miss Basketball Time – Reilly Miller
Head Basketball Coach – Rick Barnes
Rob Lanier – Associate Head Coach
Vol Assistant Coaches & Support Staff
Vol and Lady Vol 2016-17 Season Results
The Lady Vol Brand Returns
Photos and profiles of the 2017-18 Vol Players
Features on the Nation's Top Prospects
SEC Season Previews for Men and Women
Vols and Lady Vols Roster and Schedules for the 2017-18 Season
SEC Basketball TV Schedule
Men's and Women's All-SEC Teams
Men's SEC Schedules
Class of 2018, 2019, 2020 & 2021 Top High School Talent in Tennessee
Top High School Talent in the Nation – Class of 2018
Top Senior High School Lady Prospects in the Nation
Lady's Top 25 Teams in the USA
Holly Warlick Profile
The Lady Vol Assistant Coaches and Support Staff
2017-18 Lady Vol Outlook
Photos and profiles for the 2017-18 Lady Vol Players
Lady's All-America and All-SEC Teams
SEC Women's Team-By-Team Outlook