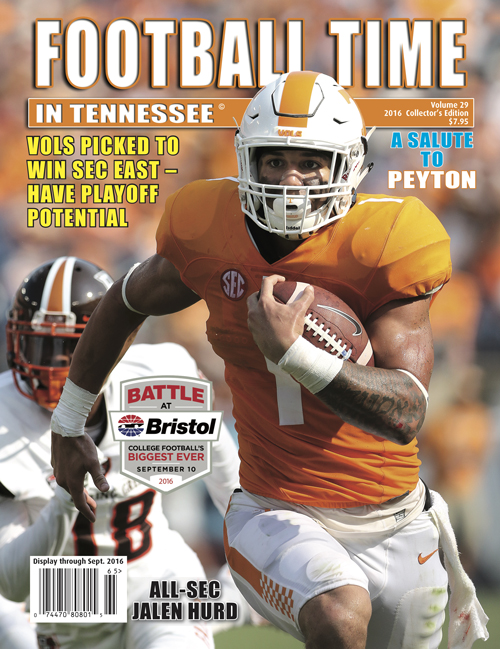 To order the 2016 edition of Football Time In Tennessee Magazine just click on the Add to Cart button to purchase with a credit/debit card or send a check or money order for $15.00 and return address to:
Sports Time Publishing
P.O. Box 5464
Knoxville, TN 37938
Questions? Email sportstime@mindspring.com or call 865-687-9716.
(Includes priority mail delivery-Magazines should begin shipping the week of May 9th—we ship them out as soon as we get them in. They'll begin hitting newsstands in Knoxville and across the South the following week) 
This 128 page magazine featuring the 2016 Tennessee Volunteers is packed with large color photos of the Big Orange in action along with exclusive feature stories.
Some of the Special Features Inside the 29th Edition of Football Time in Tennessee Magazine Include:
A Salute to Peyton Manning
Miss Football Time in Tennessee Maria Brinias
The Eyes Behind the Voice of the Vols
Football Time Analyzes the College Football Playoff
Football Time's Top 25
Football Time's All-America Team
Telling the Story of Tennessee Athletics
The Battle at Bristol
Photos – UT's Outback Bowl Victory
Never Too Early to Follow the Vols – Cooper and Ethan Crook, Part of Vol Nation
Butch Jones – Giving His all For Tennessee
Vol Assistant Profiles
Football Time Looks at the 2016 Vol Offense
Football Time Looks at the 2016 Vol Defense
2016 Vol Season Outlook
Vols' Probable Starting Line-ups Offense and Defense
Photos and Bios of Vol Players
2016 Vol Roster
Profiles and Evaluations for UT's 2016 Signing Class
Football Time's 2016 SEC Predictions
Traveling with The Vols – Directions to 2016 Road Game Locations
A Preview of the Upcoming Vol Opponents
2016 SEC Composite Schedule
2016 SEC East and West Outlook
Division 1A Football Schedules
Football Time's All-SEC Team
Top High School Prospects in Tennessee
Nation's Top High School Prospects
High School Prospect – Maleik Gray
High School Prospect – Tee Higgins
High School Prospect – Trey Smith
High School Prospect – Ty Chandler
2015 Season Results