Welcome to FootballTime.com!
Welcome to FootballTime.com, the companion webpage for Football and Basketball Time in Tennessee! Thanks to your support, we've been the #1 magazine covering Vol football, basketball, and Lady Vol basketball for years. We'll continue to work hard on our annual magazines, with Football Time being released in May and Basketball Time in October, but want to provide a way for the Vol nation to follow our coverage of the Vols throughout the year. As many of you have come to depend on our magazine for preseason coverage of the Vols, our goal is to be a site all Vol fans trust for quality news and opinion pieces. Here's what you can expect from us on the web:
*Previews for every Vol and Lady Vol Basketball Game
*Recaps of every Vol and Lady Vol Basketball Game
*Pictures from every Vol and Lady Vol home Basketball Game
*Daily Coverage of Vol News as it Happens
*Vol Recruiting Coverage as Recruits Visit and Commit
*Coverage of Signing Day
*Firsthand Coverage of Spring Practice
*Vol Football Previews and Recaps
*Pictures from Vol Football Games
*Weekly "State of the Vols" Column Released Every Monday
*Various Features Stories (Exciting Features Coming)
Please comment on this post and tell us what you want to see on the site to be entered to win TWO FREE Kentucky at Tennessee basketball tickets! We'll annonce the winner next Monday. Thanks for finding us and please continue to follow the site for Vol news all season!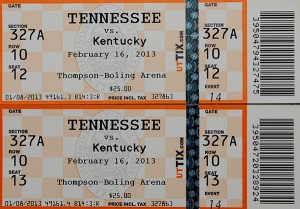 *Note: Your first comment must be approved. If you don't see your comment immediately it is awaiting moderation and will appear shortly.
About The Author