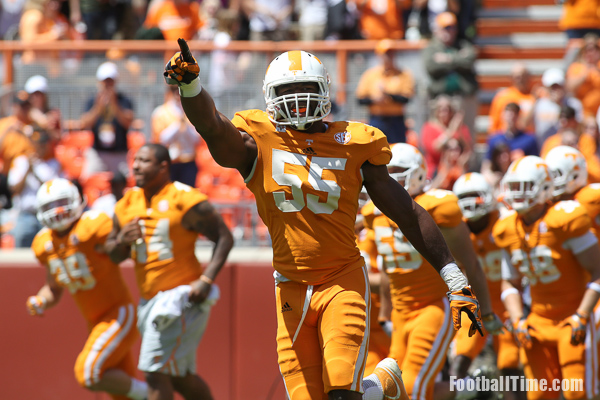 It's that time of year again, maybe better than Christmas. Yes it's the start of college football season, and for fans of The University of Tennessee, 2013 represents a fresh start for a fan base beleaguered by three seasons of Derek Dooley. Everybody loves a new coach before they start accumulating wins and losses, so the real test for Butch Jones will be if he is still as beloved by the end of a season in which the Vols play as difficult a schedule as any team in the nation. That said, Butch Jones has brought a level of excitement and has been a breath of fresh air to a program that has been in steady decline for the last three years. He has galvanized a hungry fan base and has surprised everyone around the nation with his early returns in recruiting for the Vols.
Unfortunately for Volunteer fans hungry for a return to national prominence, expectations for this season should be tempered. A roster ravaged by the flame outs of Lane Kiffin's 2009 recruiting class and Derek Dooley's three years of lackluster recruiting has left Butch Jones and his staff with a rebuilding project that likely will not see returns this year (But the future looks bright). Tennessee will likely be favored in four games, significant underdogs in five games, with the three remaining games being toss-ups.
The key to Tennessee's success this year will be to rely on an offensive line high on experience and talent, veteran running backs, and a defense that should at least not give up 20 big plays a game like they did under Sal Sunseri. A deciding factor in how this season plays out is how quickly the Vols' freshmen skill position starters acclimate themselves to playing against SEC-level competition.
As un-sexy as the selection of Justin Worley as starter might be to some Vol fans, the best thing for success this year is for Worley to seize this opportunity and play with the confidence and ability that made him Gatorade National Player of the Year. The fact is, Worley is the only quarterback on this roster that has any experience and with the Vols breaking in a host of young receivers like Marquez North, Josh Smith and Jason Croom, that experience ought to pay some dividends come game time.
Now onto the season outlook. This is how I personally see the 2013 season playing out for the Vols.
8/31 vs. Austin Peay- UT could win this game without throwing a pass. The only significance to this game is that it's Butch Jones' inaugural game as head coach of the Tennessee Vols and it's the first opportunity since November for the Vols to hit someone not in an orange and white jersey. Watch the quarterback play, if Worley struggles at all in this game for any consistent length of time look for Peterman or one of the freshmen to get a look. Again, though, UT could run the ball 50 times and probably win this game by 30.
Prediction: Vols Win 49-6
9/7 vs. Western Kentucky- Yes, WKU brought in offensive mastermind and he-of-no-soul Bobby Petrino. Yes, WKU brings back Antonio Andrews, a running back who amassed more than 3000 all-purpose yards. Those are two concerns for a Tennessee team that is young and inexperienced. That said, this game should not be to big of a deal for the Vols. WKU certainly improved under the direction of now departed coach Willie Taggart, but the facts are this: WKU is switching to a new offense that has heavier emphasis on the passing game while breaking in a new quarterback. WKU is a team that went 7-6 last year while playing in a weak conference. While they were the best defense in the Sun Belt last year, they are replacing all four of their defensive line starters. WKU may initially give the Vols some trouble, but as long as Tennessee plays sound and mistake-free football they should be pulling away from the Hilltoppers come fourth quarter.
Prediction: Vols Win 38-21
9/14 at Oregon
This is where the schedule begins to turn nasty for the Vols. Oregon brings that high-octane offense under the direction of super-sophomore Marcus Mariota. Mariota is as good of a passer as Oregon has had since Chip Kelly brought the program to national prominence. Per usual, Oregon has speed at all the offensive skill positions and they run their no-huddle attack at a breakneck pace. This speed is highlighted by world-class athlete De'Anthony Thomas and for a Tennessee defense with depth issues and speed concerns in the secondary, this does not seem to bode well for success. Did I mention this is in Autzen Stadium, one of the rowdiest venues in college football? Tennessee's only hope is to pound the ball on the ground, control the time of possession and pray that Oregon's offense self-inflicts damage on itself. Adopt and execute how Stanford handled Oregon last year and the Vols have a shot, but this probably does not end well for UT.
Prediction: Vols Lose 45-17
9/21 at Florida- Last year this game was the beginning of the end of the Derek Dooley era. The good news, Florida probably does not hang 37 points on this Tennessee team. Jeff Driskel is a solid and maybe even good quarterback who can make plays in the air and with his feet, but the Gators lack the receivers for any sort of prolific passing attack. Not to mention that they lack a proven running back now that Mike Gillislee is gone. The big reason Tennessee will struggle in this game is Florida's defense. The Gators have All-SEC talent at all three levels of their defense and any team, much less a team breaking in new quarterbacks and receivers like Tennessee, is going to struggle to score on them. This game could be sloppy and ugly, but the Gators are more built to win that sort of game than the Vols.
Prediction: Vols Lose 24-13
9/28 vs. South Alabama- A break from the rigors of the five games against preseason top-10 teams surrounding this game for the Vols. Hopefully Worley has firmly grabbed hold of the position by this point, if not this would be a game to break in a new quarterback before the schedule stiffens back up.
Prediction: Vols Win 42-7
10/5 vs. Georgia- The Bulldogs ran up and down against the Volunteer defense last year to the tune of 51 points. Bad news, Aaron Murray and most of his offensive weapons are back, including the two-headed running back monster that is Todd Gurley and Keith Marshall. Georgia is replacing a lot on defense this year though, and that may play into the Vols' favor. If UT plays a clean, mistake-free game they have a shot at taking this game at home because Georgia traditionally does not play well when given high expectations. That said, the experience of UGA's offense will probably limit any real opportunity the Vols have.
Prediction: Vols Lose 35-24
10/19 vs. S.Carolina- This game will probably be Tennessee's best shot to pull a major upset. The Gamecocks bring the best player in college football in Jadeveon Clowney, an athletic freak of a defensive end. The Gamecock defense will be sound, but if the Vols can find a way to neutralize the pass rush, which they can with their offensive line stocked with future pros, the Vols should be able to move the ball and score at an acceptable rate. South Carolina lacks any real dynamic playmakers on offense. If Tennessee's defense can limit big plays the Vols have a great shot at pulling this upset at home. Unfortunately, Steve Spurrier has had the Vols' number the last three years and I think UT is one year away from regaining the upper hand in this series.
Prediction: Vols Lose 23-21
10/26 at Alabama- Suffice to say the Vols chances in this game are slim to none. It is at Bryant-Denny. The Tide are #1. Nick Saban is the greatest coach since Bear Bryant and General Neyland. Amari Cooper is a freak of a receiver, T.J. Yeldon is a faster version of Trent Richardson. A.J. McCarron is the best quarterback Saban has had. The only thing Tennessee has going for it is Derek Dooley no longer roams (or crutches) along the sidelines.
Prediction: Vols Lose 45-6
11/2 at Mizzou- Tennessee will be better than Mizzou on both lines of scrimmage by a lot. Mizzou is better at the offensive skill positions than Tennessee is defensively. Tennessee is probably more talented than Mizzou overall, but my tendency is to go with Mizzou at home and because of their experienced quarterback James Franklin. That said, one might think the Vols will have revenge on their mind for this game because of last year's debacle at home against the Tigers. The Vols will also probably look forward to playing against a defense more suited for the Big 12.
Prediction: Vols Win 31-30
11/9 vs. Auburn- This will be a battle of two teams trying to scratch their way to bowl-eligibility. Gus Malzahn brings back his helter-skelter offense to Auburn as head coach. The two teams are pretty even on paper, the Vols probably have a little more offensive talent than Auburn and the Tigers bring more defensive talent than Tennessee. This game might as well be a toss-up but I say advantage to the home team.
Prediction: Vols Win 24-17
11/23 vs. Vanderbilt- Note: I'm not as sold on Vandy as a lot of people. They played an easy schedule en route to nine wins last year with the best team they beat being Tennessee. And boy did they whoop up on the Vols, and even given the situation with the imminent dismissal of a coach way over his head there is no excuse for Tennessee to have laid down like they did last year. All of that aside, Vandy lost a lot last year on the offensive side of the ball. Zac Stacy is gone, Jordan Rodgers is gone, and the unknown status of receiver Chris Boyd could in fact leave Vandy with one viable offensive threat in Jordan Matthews. Jordan Rodgers was an OK quarterback, but Austyn Carta-Samuels was unable to beat him out the last two years, take that as you will. Vandy's defense will be good, but Tennessee's oline is capable of dominating this game. Plus with all the ruckus James Franklin and his staff have raised in the media and in recruiting, the Vols will be extremely focused on this game.
Prediction: Vols Win 28-17
11/30 at Kentucky- Mark Stoops is doing work on the recruiting trail and Neal Brown brings a high-octane passing scheme, but at the end of the day the Wildcats do not have the talent to win against SEC teams right now. Simple as that. As long as Tennessee does not give an encore performance of their last visit to Lexington, they will win.
Prediction: Vols Win 34-21
Final Regular Season Record (7-5, 4-4 SEC)