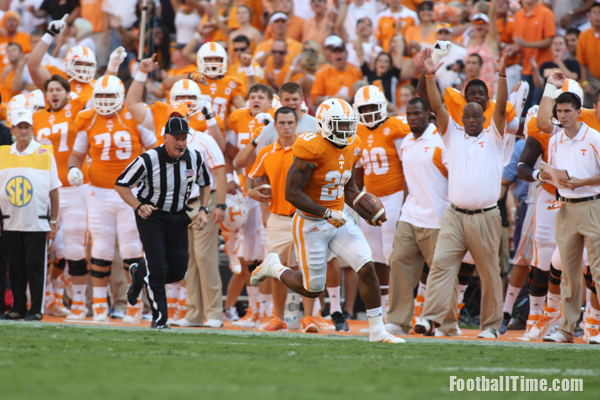 KNOXVILLE—The Vols picked up win No. 800 Saturday in the form of a 45-0 win over Austin Peay. We'll have a report card every Monday after Jones concludes his weekly press conference.
Quarterbacks
Justin Worley was an efficient 11-13 for 104 yards and three touchdowns. Heading into the game, I said you'd like to see Worley complete better than 70% of his passes and he did that. He showed a solid command of the offense, "I thought he played winning football for us. I thought he was in command of the offense, I thought he managed it well," Jones said this afternoon.
Worley did have several passes which were badly under thrown, two of which should have been TDs to Marquez North. Jones echoed that sentiment this afternoon, "There was a couple deep balls that we would like to have back and we would like to complete those. The overall big play makeup of our football team, we have to have big splash football plays."
Those are the types of throws Worley has to complete as the schedule takes a much more difficult turn this week. Until he proves he can make those throws, it will be tough for the Vols to stretch the field. Backup QB Nathan Peterman struggled leading the second unit and managed to lead the team to just three points. He was 4-8 for 28 yards and looked overwhelmed at times.
Worley did what was necessary to beat an overmatched team and even showed some decent legs ( 4 carries for 28 yards). He'll have to be more accurate with the football moving forward as passing windows become smaller and smaller. Peterman clearly needs a better handle of the offense to be a consistent threat to Worley's job. Grade: B- 
Running backs 
Rajion Neal carried most of the load on the ground (16 carries, 142 yards and 1 TD) and recorded the longest play of the game, a 47-yard touchdown run. He showed more explosiveness than we've seen in the past and is clearly a more determined runner. Jones still wants to see more vertical running from Neal, "I thought there were too many times that we bounced things to the sidelines. And I think the other things is a four-yard run is good. A lot of times I think we were bouncing plays looking for the big play and instead we should be looking for four yards first and then looking to make somebody miss."
Both Neal and Lane (6 carries for 38 yards and 2 TDs) will have to be more aggressive runners between the tackles in SEC play for the Vols to be competitive. The Vols ran the ball 52 times (the most since 2008) for 335 yards but will need to be a more effective vertical running team in the coming weeks to pick up W's against much better defenses. Grade: B
Receivers/Tight Ends
An inexperienced unit, Tennessee's starting receivers entered the game with just 54 career receiving yards and one career touchdown between them. The Vol receivers and tight ends tallied 14 receptions for 125 yards and three touchdowns. "I think there were a couple times where our receivers were digesting it (the speed/offense) but I thought for the most part they did a good job," Jones said Monday afternoon.
Cody Blanc had a drop with the second unit, and though under thrown, Marquez North had two passes hit him in the hands that he didn't haul in. This unit will get better as the year progresses and deserves some credit for solid run blocking on the outside. Brendan Downs was effective at tight end and hauled in the second TD of his career. Woody Quinn, Joseph Ayres, and A.J. Branisel need to be more physical in the run game. Grade: B-
Offensive Line
Without a doubt, Tennessee's offensive line is the most experienced and talented unit on the team. They surrendered just one sack and paved the way for a rushing attack that tallied 335 yards and averaged 6.1 yards per carry. Jones criticized the line for not finishing blocks and that's certainly an area for growth as the season progresses.
Overall, Tennessee's linemen did what they were supposed to do: protect the quarterback and pave the way for a run-heavy attack against an outmatched opponent. Grade: A-
Defensive Line
Dan McCullers and Daniel Hood had solid games. McCullers faced double and triple teams all night, though he recorded just one tackle (a play where he smothered an Austin Peay running back at the line), his presence opened opportunities for other Vol linemen. Fellow senior tackle Daniel Hood had a tackle for loss and interception. The Vols generally did a good job of plugging up the middle of the field. Mo Couch and Marlon Walls (both seniors) each recorded a sack and Tennessee's first team defense dominated the line of scrimmage.
Any time you shutout an opponent, a ton of credit goes to the defensive line. Tennessee's starters easily handled an outmatched offensive line and several backup linemen (Jaylen Miller and Trevarris Saulsberry) showed some promise. Tennessee needs to show a more consistent pass rush as the season progresses. Grade: A-
Linebackers
The Vol linebackers didn't make any highlight-worthy plays, but had an effective night. They swarmed to the ball, were (relatively) disciplined, and didn't miss many tackles (until the reserves entered the game). Brent Brewer was solid in his first career start at linebacker and had three tackles. A.J. Johnson showed more on-field leadership than we've seen from him and flew around the field.
The coaches still want to see more impact plays from this unit. We'll see how they fare against a dangerous Western Kentucky team this week: Grade: B
Defensive Backs
Tennessee's starting defensive backs showed clear improvement from last year. Remember when the Vols played FCS opponent Georgia State last year? And gave up several big plays? The first team blanketed Austin Peay receivers during the first half and gave up just 84 passing yards. Freshman Malik Foreman got picked on a bit and surrendered a 35-yard reception. He redeemed himself with an interception later in the game and Tennessee's young secondary didn't show the gaping missed assignments we saw with regularity last year.
This unit is faster and more disciplined than the secondary which was so frequently victimized last year. They'll take their lumps, but this is definitely a much improved unit. Grade: B
Special Teams
Michael Palardy had perhaps his best performance as a Vol. He was perfect on extra points (no small feat if you followed the Vols last year), made a 37 yard field goal, both of his punts landed inside the 20 (one of which went for 53 yards), and each of his eight kickoffs had good depth and hang time.
Tennessee's kick coverage was adequate despite missing a handful of tackles. Devrin Young fielded two punt returns cleanly and took his only kick return back 58 yards. Jones has placed an emphasis on special teams play in practice and it showed Saturday. Grade: A-
Coaching
Is there any doubt this team is well-coached? The Vols were not penalized for the first time since 2007; one of only two teams in the nation (Army) to get through the week without a penalty. The Vols substituted a ton and never seemed disorganized. Their uptempo offense was effective, and though Jones wants the team to play faster, the Vols played fast enough. Their offensive game plan played to their strengths and didn't ask too much of an inexperienced quarterback and receiving corps.
Perhaps most importantly, we didn't see the serious missed assignments on defense that were the norm under Sunseri last year. Jones also got the Vol reserves some valuable snaps, something that can't be overstated considering the depth issues this team will face for the next two years. Much bigger tests are coming soon for this staff, but it's abundantly clear this team will be prepared for whatever comes their way. Grade: A
What grade do you give Tennessee's win over Austin Peay?