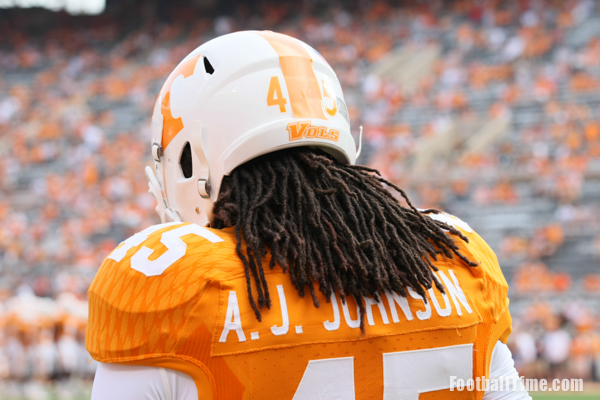 KNOXVILLE— Butch Jones met with multiple student body leaders Tuesday evening and encouraged them to support the program. Since his hiring, he's been adamant about returning Neyland to one of the most feared venues in the nation, and that starts with student body being a rowdy presence on Saturday's. But that's not the most interesting thing to come out of Tuesday's meeting.
If you've been following the program, you've probably seen or heard about the number "63″, which stands for "six seconds, three great efforts" in the Butch Jones lexicon. The idea is that most plays last six seconds and during those six seconds you must give three great efforts to make a play. Jones dropped in Tuesday's meeting that helmet stickers rewarding players who give such an effort are coming. Will this be the number 63? Or something else?
Look for a release from UT sometime as early as Wednesday with more specifics, but don't expect to see the Vol helmets covered in multiple stickers (a la Ohio State). While details are scarce, our sources indicate it's likely that a single sticker will be awarded on a week-to-week basis to each player who performs up to Jones' 63 standard.
UPDATE: Per David Cobb (Sports Editor of The Dailey Beacon), who was present at the Tuesday evening meeting, here is what Jones had to say on the matter:
"We'll start something new. I haven't told this to anybody, so now you guys have it. From here on out, the person that plays with '63 effort' will wear a little '63 decal' on the back of their helmet signifying they played the hardest in the previous game… In order for us to play in our football program, each individual has to play hard for six seconds and give three great efforts. So we'll actually count out the efforts when we watch the film."
If we've learned anything in his short time at the helm of the Vols, it's that Jones continually looks for new ways to motivate his players. It appears helmet stickers will soon be making an appearance in his rather expansive bag of motivational tools.