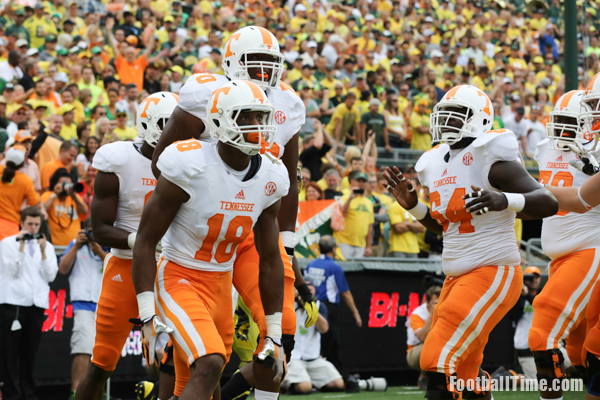 EUGENE—The Vols suffered a 59-14 loss to No. 2 Oregon Saturday. Here are a few quick notes and thoughts.
*Quarterback play continues to be a huge issue for the Vols. Justin Worley finished the day 13-25 for 126 yards and one touchdown. He's averaging just 124 yards passing per game this season. The Vol offense is limited to short passes close to the line of scrimmage and needs more from Worley (or someone else) in order to open up the playbook.
*Tennessee tallied 316 yards of offense against an Oregon team with a decent, but not great, defense. Over 100 of those yards came in garbage time with Nathan Peterman at quarterback. The first team offense accounted for just 204 yards.
*The Vol ground attack totaled 38 carries for 178 yards, or 4.7 yards per carry. Much of that came late. In the first half, the Vols carried the ball 18 times for 66 yards, or 3.6 yards per carry. That number has to improve. The Vol offensive line didn't get enough push and the running backs tried to bounce things outside against a speedy Oregon defense too often.
*Tennessee's offensive line may be one of the best in the nation at pass blocking, but that have a long way to go in the run game. Everyone knew the Vols needed to come into Eugene and dominate the line of scrimmage, but they weren't able to get a consistent push against Oregon's defensive line. Right now, Tennessee is an average run blocking team (at best).
*A.J. Johnson continues to get exposed in pass coverage. Oregon went right at him in the middle of the field multiple times for numerous huge gains. He led the Vols in tackles and was solid against the run, but teams will continue to exploit him until he either improves or the coaches can figure something out to help mask his deficiencies in pass coverage.
*The Vol defensive front turned in a fairly lackluster performance. To compete with Oregon, teams have to get pressure up the middle and the Vols were unable to do so on a consistent basis. Overall, the Vols need more tenacity from their defensive front.
*Oregon gained 687 total yards and scored at will once the Vol defense tired. There's just not much the staff can do about that at this point as depth will be a concern at nearly every position this season. Some blame has to go to the Vol offense that couldn't maintain drives.
*Discipline is a trademark of Jones-coached teams, and though there were several missed assignments, this wasn't really an undisciplined effort as a whole. The Vols were penalized just four times for forty yards and now average a stingy two penalties a game.