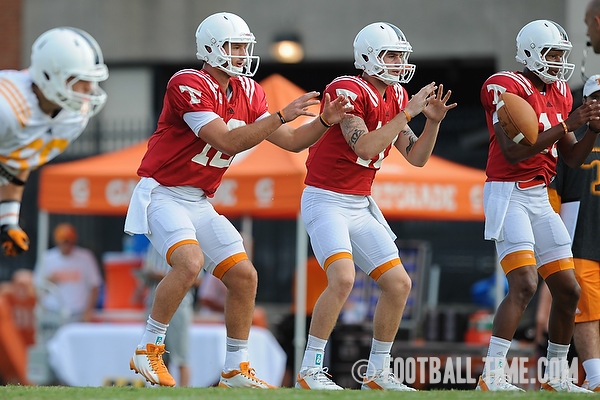 KNOXVILLE—The Vols fell 31-17 to the Gators over the weekend. I took a few looks at the film and graded the performance of each unit. Agree or disagree with my grades? Leave a comment below!
Quarterbacks
The quarterback position continues to be the biggest question mark on this team after Saturday's dismal showing in Gainesville. Nathan Peterman earned his first career start with a solid week of practice, but turned in one of the worst performances from a Vol QB in history: 4 for 11 passing for five yards, two interceptions, and two fumbles. Peterman broke his hand at some point and will be out at least four weeks.
Former starter Justin Worley had a decent second half (10 for 23 for 149 yards, one touchdown and two interceptions). He played well enough to get the Vols back in the game, but made several costly throws, some of which were intercepted and several that should have been (had Florida's second string secondary not been in the game). He showed some positive signs (especially on a touchdown pass to Pig Howard), but the questionable decision making that got Worley benched was still present Saturday. Unless the Vols get better QB play, a bowl appearance will have to wait another year. Grade: F
Running backs
Tennessee's running backs have been average and that won't get it done on a team struggling to find a consistent passing game. Lane and Neal combined for 58 yards on 17 carries (3.4 yards per carry). Some of that is on the Vol offensive front which struggled at times, but Lane and Neal haven't shown the explosiveness or vertical running many expected heading into the season. Grade: C
Receivers/Tight Ends
A few of the bright spots Saturday came from the Vol receivers in the second half. Pig Howard turned in his best performance of the season with four catches for 75 yards and a touchdown. He needs to continue to make splash plays moving forward for this Tennessee team to earn a postseason bid.
Marquez North added four catches for 43 yards and looks like he's starting to get adjusted the the speed and physicality of college football. Jason Croom showed some flashes as well with two catches for 31 yards. True freshman Josh Smith had a couple of costly drops. This unit is improving, but still has a ways to go. Grade: C+
Offensive line
The truth hurts and the truth is the Vol offensive line hasn't lived up to the hype. Though they only gave up one sack, the pocket collapsed around the UT QBs too quickly, too frequently. A talented Florida defensive front man-handled the left side of Tennessee's line for most of the game, and the unit as a whole continued to struggle in the run game. They should be blowing opponents off the ball but haven't shown the ability to do so up to this point. Grade: D-
Defensive line
A veteran unit, Tennessee's defensive line turned in its best performance of the season. Marlon Walls lived in the Florida backfield and his pressure on Driskel resulted in Swafford's pick-6. Tennessee's ends generally did a good job of disrupting the Florida offense. Corey Miller made some nice plays against Tyler Murphy in zone read situations and Corey Vereen was effective in his return, though he played just seven snaps. Daniel Hood was a force in the middle and Florida didn't have much success down the throat of Tennessee's defense. Jacques Smith was in position to make plays multiple times, but whiffed on several tackles and lost contain. He has to play better against mobile QBs as the season progresses. Grade: B
Linebackers
Dontavis Sapp and Brent Brewer have been underrated this season and played well against Florida. They have both been solid in the run game and very good in pass coverage. Brewer tallied a couple of pass breakups on the day and Sapp added a pass break up and QB hurry. They have both outplayed A.J. Johnson thusfar this season.
Though Johnson recorded 10 tackles, he was out of position several times and took a few bad angles which led to big plays. He had a free shot on Gator QB Tyler Murphy but tried to bring him down with one hand on his shoulder pad…that didn't work and Murphy escaped the pocket for a long scramble and first down. Coach Jones got in his face and he played better afterwards. Grade: B
Secondary
The Vol secondary played the best of any unit Saturday and showed several positive signs this team can build on as the season progresses. Devaun Swafford provided a spark with a 62-yard interception return for a touchdown and Cameron Sutton blanketed Florida receivers all day. Brian Randolph was disruptive (two tackles for a loss) against both the pass and run and LaDarrell McNeil made a few big hits. With the exception of one play where both Swafford and Randolph took bad angles on a short pass to Solomon Patton, a pass which turned into a 52-yard touchdown, there weren't many noticeable busts (yes, they missed some tackles late, but they were on the field entirely too long thanks to an inept Vol offense). Grade: A-
Special teams
Michael Palardy is having  a very good season. He is perfect on field goals and extra points including a 44-yarder Saturday. Palardy also averaged almost 42-yards per punt. Tennessee's coverage on kicks was fantastic with the exception of one play (a 38-yard rerturn by Solomon Patton). The Vol returners fielded kicks cleanly but didn't account for any big plays. The bottom line: for once the Vols outperformed the Gators on special teams. Grade: B
Coaching
Sure it's easy to question Jones giving Nathan Peterman his first career start Saturday, but Worley came into the game averaging 124 yards passing and that just won't get it done. Jones was looking for a spark, but perhaps looked the wrong place. Tennessee's defensive gameplan was excellent and put the Vols in position to win. It's hard to fault the coaches for an inept offense when they haven't been able to find someone who is able to run the offense consistently. They did a good job of involving Pig Howard and Marquez North in the offense. Look for their roles to grow as the season progresses. Grade: B-