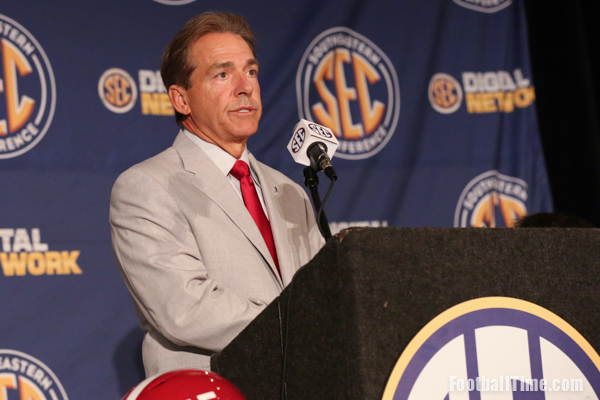 Saturday was a shining example of what makes college football the most entertaining sport on Earth. Nobody could have prognosticated what happened (look at our picks panel for evidence). This past weekend, the SEC produced a level of parity in its results unparalleled by any weekend in my 23 years of living. The league as a whole is experiencing a staggering amount of balance between 11 of its teams. On the bright side for the teams that were upset this weekend in the SEC, take solace in that you are not Clemson. Because of last week's results, there has been a lot of shuffling to my power rankings for America's best conference. Let's dive in.
1. Alabama
Last Week: Won 52-0 over Arkansas
This Week: 10/26 vs. Tennessee
Alabama slaughtered Arkansas as expected. As crazy as it sounds, the Tide appear to be as stout on defense as last year, possibly more. AJ McCarron and the offense also appear to be rounding into form. Their contest this weekend versus Tennessee is a definite step or two up from the last two weeks of playing Kentucky and Arkansas, but if the Tide play a clean game they should see themselves pulling away from the Vols in the second half.
2. Missouri
Last Week: Won 36-17 over Florida
This Week: 10/26 vs. South Carolina
I have been wrong about the Tigers all season. That changes now. 7-0 is nothing to sneeze at now that Gary Pinkel's team has begun conference play by taking out two of the traditional SEC East Powers in UGA and Florida. The Tigers have all but locked up the SEC East crown and have a chance to put a complete stranglehold on the division if they can beat a South Carolina team that simply does not look as strong as the previous three years. The fact that they gashed a loaded Florida defense for 500 yards is more than enough evidence for me to start taking these guys seriously, methinks the rest of the SEC is too.
3. Auburn
Last Week: Won 45-41 over Texas A&M
This Week: 10/26 vs. Florida Atlantic
This is where the power rankings start getting messy. Gus Malzahn's guys appear to be getting better on both sides of the ball as the season progresses. Granted, Texas A&M's defense is in the running with UGA, Vandy and Arkansas as the worst in the league, but make no mistake, Saturday's result on the road for the Tigers was as impressive as any victory in college football this year. What would have been an absolutely crazy notion at the beginning of the year, that is the Iron Bowl deciding the SEC West, is quickly becoming a reality. This week's game versus Florida Atlantic will allow Gus Malzahn to rest his guys from the wears and tears of SEC play before taking on the back-end of a schedule that includes a trip to Knoxville and home games versus UGA and Bama.
4.Texas A&M
Last Week: Lost 45-41 to Auburn
This Week: 10/26 vs. Vandy
Johnny Manziel put in another epic performance despite injuring his throwing shoulder. Unfortunately, the Aggies' defense is a complete mess and couldn't stop a nosebleed, much less any semblance of a rushing attack. Vandy's defense is extremely porous, but the Commodores are riding high after their upset of UGA, and at some point Kevin Sumlin's team will have to play defense.
5. LSU
Last Week: Lost 27-24 to Ole Miss
This Week: 10/26 vs. Furman
Last week's loss to Ole Miss might be the worst loss of Les Miles' tenure with the Bayou Bengals. An offense with Zach Mettenberger, Travon Landry, Odell Beckham Jr. and Jeremy Hill should not be only putting up 24 points in a game versus a defense down key players due to injury, but by God they did. Now their November 9th trip to Tuscaloosa does not look near as sexy as it dead last week. It's also apparent that this crew is a completely different team on the road than at home, so don't be shocked if the drop another this season.
6. Ole Miss
Last Week: Won 27-24 over LSU
This Week: 10/26 vs. Idaho
The Rebels pulled off one heck of a shocker by taking down LSU at home. Hugh Freeze's squad hung tough even after LSU fought back in the second half, and that is a testament to the job Freeze and his staff have done instilling confidence in a team stocked with young playmakers. Now the Rebels get an easy win versus a 1-6 Idaho team.
7. Georgia
Last Week: Lost 31-27 to Vandy
This Week: Bye
Yes I know that the Bulldogs face-planted in Nashville this weekend, but the truth is, the Bulldogs are playing with walk-ons and players they were planning to redshirt on offense. The defense and special teams are that bad, but once Aaron Murray gets a little of his help back this is still a good team. Todd Gurley is back practicing this week and there is hope that Michael Bennett and Chris Conley might recover in time for the annual "Cocktail Party" down in Jacksonville.
8. Tennessee
Last Week: Beat South Carolina 23-21
This Week: 10/26 at Alabama
The Vols got a statement win for Butch Jones in his first season. Even better, the Vols' offense was pretty mediocre on Saturday (even more than usual) with the exception of Marquez North. Jones flat out-coached Spurrier on Saturday, which is quite an accomplishment considering the OBC's career. There are not enough words to describe the turnaround of this defense from last year to this year. If the offense can find continuity early on in games rather than waiting for the 2nd and 3rd quarters to find a rhythm, this team will be able to compete with everybody left on the schedule minus their contest with Alabama this weekend. Another beautiful part of this Vols team relative to the last decade is the execution of the special teams. The Vols absolutely dominated the Gamecocks in terms of field position and have really avoided the snafus that have plagued the program over the years.
In order for the Vols to have any shot versus Bama this week, the offense HAS TO execute for four quarters and get their up-tempo offense going. The defense will probably hold the Vols within range for a little bit, but Justin Worley and friends can not afford to start they game with 3 or 4 scoreless drives if the Vols are to have a chance.
9. South Carolina
Last Week: Lost 23-21 to Tennessee
This Week: at Mizzou on 10/26
The Gamecocks choked hard this weekend up in Knoxville, but the more you look at them the more you realize this team has been underachieving the whole season. First they got torched by UGA in Athens and now they could not manage to beat a team with inferior talent on both sides of the ball. Facts are facts, in the two toughest games that Spurrier's team has played this year, they have disappointed. They've dominated inferior foes and failed against similarly talented teams. To put it simply, this team is perfectly mediocre.
10. Vanderbilt
Last Week: beat UGA 31-27
This Week: 10/26 at A&M
James Franklin notched his biggest win to date. Yes it was against a depleted UGA team, but the fact is, this is a game Vanderbilt would have found a way to lose in the past. That's a testament to Franklin's coaching and his ability to squeeze productivity out of his players. Unfortunately, they get to face pissed off Johnny Manziel this week. Good luck with that 'Dores.
11. Florida
Last Week: Lost 36-17 at Mizzou
This Week: Bye
The Gators are a mess and injuries have finally taken their toll on the Gator defense. The offense is still a disorganized heap of talent with no apparent direction. Will Muschamp is going to have to find a way to scrape up some wins soon or the locals will get even more restless.
12. Mississippi State
Last Week: Bye
This Week: 10/24 vs. Kentucky
The Bulldogs have a solid shot to pick up their first SEC win against the Wildcats on Thursday night. With the struggles of both offenses to establish continuity, 21 points might be enough to score a win.
13. Kentucky
Last Week: Bye
This Week 10/24 at Miss State
I removed Mark Stoops and his squad from the cellar of the power rankings because they have not given up 104 points over two weeks and they at least appear to be getting somewhat better as the season goes. On a more positive note, basketball season starts soon.
14. Arkansas
Last Week: Lost 52-0 to Alabama
This Week: Bye
SEC fans win this week by not having to be subjected to watching a team with 0 identity on either side of the ball. Alex Collins is going to toil away in a program that may reach 6 wins by his junior year if he is lucky. At least Jen Bielema is pretty, that's about all the Hogs have going for them.
Questions? feel free to leave a comment or holler at me on twitter @thomasduggins