Being a Tennessee Cheerleader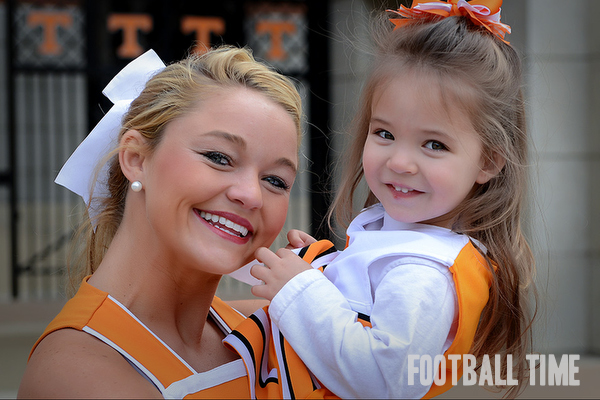 Editor's Note: Chelsea Harris was a Tennessee cheerleader for three years. She is interning with us this semester as she prepares to graduate (you can hear her Thursday's from 6-8 on Tennessee Sports Radio). After speaking with her a few times about her many experiences as a cheerleader, I asked her to write a piece on the impact her time in the University of Tennessee Spirit Program had on her life and the lessons it taught her. Enjoy! 
Being a Tennessee cheerleader meant that I was a leader, role model, representative, and an ambassador for my school and community, but I never thought in a million years that it would impact my life in such a big way. Being a Tennessee cheerleader meant I was always on stage or in the public eye, as my coach Joy Postell Gee always emphasized. During my early days as a cheerleader, I wondered how that was even possible, but you will see that I soon found out why she continually reminded us of our prominent role and how the University of Tennessee Spirit Program subsequently influenced my life.
Being a Tennessee cheerleader meant that I was a leader. Whether it be cheering on the sidelines at the football game or performing at the pep rally where there are only three loyal Tennessee fans in attendance, I soon learned that leadership was a critical component of cheerleading and athletic performance. It taught me that I must always strive to set good examples and have a positive attitude that others want to mimic.
This is what I hold dear to my heart and what made my time as a cheerleader so fulfilling. Vol cheerleaders are constantly leading the crowd, encouraging the fans to cheer on your team, and if you were like me and a part of the program for three years, you would have had the opportunity to help others grow and help others gain the skills and knowledge to be successful. When I put on that uniform I was representing my team, school, community, as well as my coach, teammates, and the Tennessee Spirit Program as a whole.
It did not matter if I was going to the mall in "normal clothes," out to eat with my family, or heading to game, there was always someone who said, "That is a Tennessee cheerleader." Just a couple of weeks ago I was at a restaurant with a friend and a girl about 10 years old came up to me and said, "You are my favorite Tennessee cheerleader, you took a picture with me and my friend two years ago as you were in a hurry to get into the stadium after the Vol walk." She then showed me the picture on her iPhone. It made me think back to what my coach Ms. Joy told us about always being on stage or in the public eye. It was this incident that made me realize that she was right. That picture with this little girl happened two years ago, yet she still recognized me.
Now if you are not familiar with the Vol Walk, it can be very crowded as fans get extremely excited on Peyton Manning Pass as the Vols walk down with police motorcycles, security, cheerleaders, and Smokey. As most Vol fans know, it's very exhilarating, but at the same time trying to be a part of a somewhat choreographed performance amidst the chaos of the Vol Walk can be quite stressful. My point is that at some point while I was managing to get through and follow the rest of the cheerleaders, I took about 10 seconds of my time to take a picture with these two little girls and make their day.
Being a Tennessee cheerleader meant that many younger girls were looking up to me. They thought of me as some sort of superstar, someone they wanted to be like when they grow up. That is something that can only be described as both humbling and inspiring.
One of my favorite relationships I made along the way was with a 3-year-old girl named Tori. She is absolutely precious and I have continued to stay in touch with her even after becoming an alumni. It definitely was an honor and is still an honor today. As I am moving on in life and taking steps into the real world, it is still important for me to remember the many lessons my time as a cheerleader taught me. It is still important to set examples for those around me and offer advice and experience to those who are striving to obtain a similar dream. My years cheerleading taught me that something as simply as posing for a quick 10-second picture, or allowing a little girl to come out and cheer at the Vol Walk, or actually giving Tori a set of my game day poms at the last game I cheered at can profoundly impact someone's life.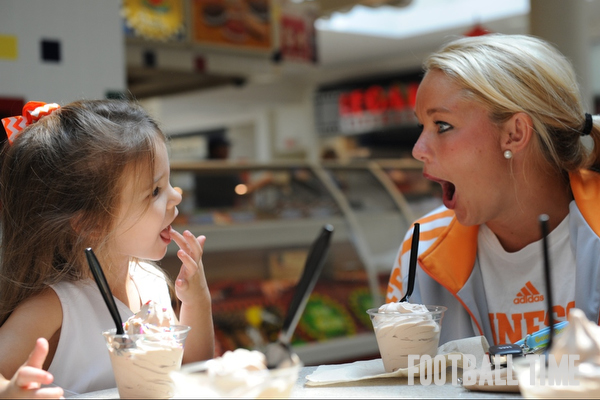 Being a Tennessee cheerleader meant the absolute world to me. My experiences taught me not only how to be a great cheerleader, they offered many amazing opportunities, such as earning a degree, and taught me life skills like time management, patience, trustworthiness, reliability, and wisdom. I think the most valuable thing it taught me was to not take anything for granted and to never complain about a task because you never know when something is coming to an end.
I wish I could I could thank every individual personally that has helped me and impacted my life but that might take a few days! But I would love to go ahead and thank one lady that holds one of the top spots ranking right up there with my parents and that is the head coach for the University of Tennessee Spirit Program, Joy Postell Gee. She is an amazing woman, and I consider her my second mom.
She taught me so much while I was there not only about cheerleading, but also about life. Without her allowing me the opportunity she did I would not be writing this story today. She deserves so much more than I could ever offer for all she has done for me and for all the former, current, and future members of the Spirit Program.
Now that it's all said and done I am proud to say that I not only have about a dozen sets of pom poms, a souvenir uniform, and a few old pair of shoes, but I have some amazing memories and relationships that I made along the way that I will cherish for the rest of my life.
About The Author