Weekly Column: Basketball Time in Tennessee Court Vision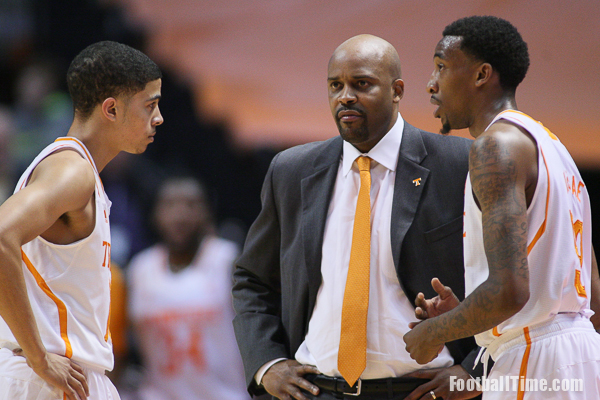 This weekend marks a transition in our sporting year. After the culmination of the the NFC Championship Game Sunday Night, football enjoys one last hurrah, the Super Bowl. But The Super Bowl is seldom about the game. It's about the party you attend, the gambling you're doing, the slurred questions from that guy who your significant other invited that doesn't know anything about Football and is there to showcase his signature Guacamole recipe. It's about people watching commercials more diligently than the game.
But after that, and the brief optimistic blast of National Signing Day, football leaves us and there isn't enough Bourbon in the South to manage your emotions. It's time to accept the fact that it's Basketball Time in Tennessee.
This weekend, like most, offers games that are various degrees of appetizing. Making time to consume your sports is important. You need to balance work, life, and your Vols and other sporting obsessions. Thus, we here at Football & Basketball Time in Tennessee are presenting you with a weekly guide, titled "Court Vision" to guide you through the college hoops season.
Our short hand ranks games as follows.
Glance – A game that's worth your time if you're bored, or nursing a hangover with a 'hair of the dog' beer.
Haterade – A game you'll hate watch despite yourself. You will hate and mock everything involved.
Reservation – a Michelin Starred quality game that you'll make an appointment to consume.
This week offers plenty of opportunities for all three.
Glance Game Of The Weekend
Florida at Auburn 4 PM (TV: ESPN3)
It's a conference game in the SEC and thus something that Vol fans will want to keep an eye on. But don't let it drag you away from anything more important. Particularly this weekend. Florida is 14-2 and looks typically solid this year. They're 3-0 in the SEC and have a nice win over Kansas under their belt. Auburn, meanwhile is typically nowhere: 8-6 on the year coming off a loss to your Tennessee Vols. Glance at this one, particularly if it gets close in the second half. But don't let it distract you.
Haterade Game Of The Weekend
Pittsburgh at Syracuse 4 PM (TV: ESPN)
Because when we think traditional ACC rivalries for the ages, the first tandem that come to mind are Pittsburgh and Syracuse. I remember those classic match ups and how they dwarfed the rivalry between Dean Smith and Lefty Driesell back in the 1980′s. Oh wait. This game is full of Haterade for anyone who even slightly believes that the current conference system is a sham, that the free agency of schools makes the free agency of coaches look like true loyalty, and that, while the day when 4 Major Conferences exist and ignore the NCAA rules cannot come soon enough, the current tectonic plates shifting is worthy of scorn. Plus, both teams are good. Pittsburgh is about as reliable as a Lane Kiffin coaching job during the NCAA Tournament, but during the regular season these teams play tough. The Panthers are 16-1 and head into the Carrier Dome to play the undefeated, and very talented, Syracuse Orange. If you're looking for rooting interests down South, Syracuse fans put up with more snow each year than any American who isn't in an igloo in Alaska and Pittsburgh has a nice airport. Choose freely. Or just choose to hate.
Reservation Game Of The Weekend
Tennessee at Kentucky 12 PM (TV: CBS)
This is always appointment TV and this week, even more so because, for reasons that are both benign (scheduling conflicts) and outrageous (HOW COULD YOU NOT OVERCOME A %&##& SCHEDULING CONFLICT FOR THESE TWO TEAMS???), Tennessee only plays Kentucky once this season. At Kentucky. Arguably the best rivalry in SEC Basketball history, and they play only once. Infuriating. But that leads us to the inarguable fact that this game is MUST WATCH TV. A win for the Vols over Calipari's kittens will help the inconsistent Vols tremendously. These are not the Anthony Davis and the Unibrow's Wildcats. They're more talented than last year's crew, but as this week showed, they have feet of clay.
Cuonzo Martin needs this game. Clear your calender, have your adult beverages purchased, and get ready to scream at the screen. Because, when all is said and done, hating Kentucky Basketball is as American as apple pie.
Enjoy the weekend and the games.
About The Author