Opinion: Bruce Pearl, Cuonzo Martin, and the state of the Vol basketball program.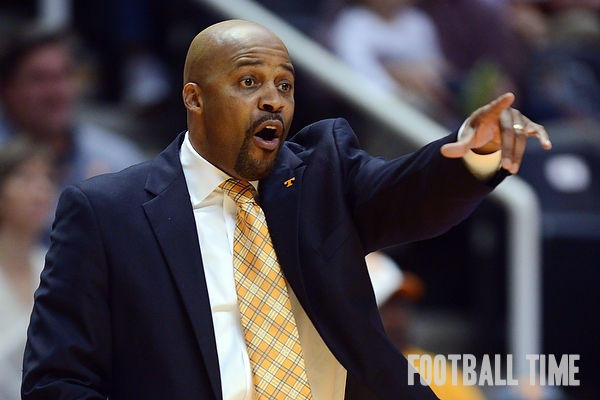 Anytime the Vols play, I'm flooded with "Bring Back Bruce" comments. The passion a portion of the fan base has for their former coach is understandable; anyone with a pulse in Knoxville remembers Pearl leading the Vols to new heights. In six years, he energized a long-dormant program looking for a catalyst to bring it new life. He led the Vols to six-consecutive NCAA Tournament berths.
He led Tennessee to its first No. 1 ranking and its first Elite Eight appearance. Pearl established NCAA Tournament wins, not just appearances, as the expectation for the Vols year in and year out. By nearly every measure, Pearl's tenure on Rocky Top was the most successful six-year span in school history.
As such, it's well past time to address the "BBB" movement and address several prevailing opinions about Pearl, Martin, and the Vols.
"If not for Jimmy Cheek, Pearl would be coaching the Vols."
That's an inaccurate and oversimplified statement. Cheek has bosses. If his bosses and/or big donors wanted to keep/rehire Pearl, they could. The reality is the NCAA made it clear the Vols had to fire Pearl "or else." Though former AD Mike Hamilton fought hard to keep Bruce, even in the face of the impending NCAA hammer, Cheek and his superiors opted not to test the NCAA and decided to part ways with Pearl.
At the time, I thought UT should have done everything possible to retain him. And I still believe that. But Pearl was fired and fired with cause. Multiple bridges have been burned. And based on sources both at UT and who've spoken with Pearl recently, they're not going to be rebuilt anytime soon.
One man is to blame for Pearl's time on Rocky Top coming to a premature end and it's not Jimmy Cheek. It's Bruce Pearl.
"IT WAS JUST A BBQ!!!!"
I wish I had a nickel for every time I've heard this one. This statement is typically laced with anger and misinformation. Contrary to what social media, bloggers, and radio hosts say, Pearl wasn't given a three-year show-cause for hosting an innocent BBQ. He was given a show-cause for having impermissible contact with a recruit, attempting to orchestrate a cover-up, and lying to the NCAA. His staff also had nearly 100 instances of impermissible contact with recruits noted in the NCAA's findings.
That said, I've been consistently critical of the NCAA's ruling. Their tyrannical punishments rarely match the crime. Pearl's case is no exception. Current Missouri head coach Frank Haith was suspend just five games by the NCAA for violations which far outweigh Pearl's.
Regardless as to the relative unfairness of the NCAA's ruling, Pearl wasn't ousted for a simple BBQ. He was punished for breaking the rules, trying to cover it up, then lying about it. Stop with the BBQ narrative. It's not accurate.
"No one is coming to games."
This one simply isn't true. Don't get me wrong, attendance is falling, but it's not falling as fast as many think. In fact, it started declining during Pearl's tenure. In 2008-09, the Vols averaged 20,267 fans per home game. That number fell to 19,168 the following year then to 18,952 Pearl's last season—good for 5th nationally. Last year, Tennessee averaged 16,543 people per home game—8th nationally. From 2007-08 to 2012-13, home attendance dropped by 3,724 fans per game—35% of that decline came under Pearl while 65% belongs to Cuonzo.
From 2008-09 through last year home attendance fell by 23% while SEC attendance dropped by 15%. Tennessee's attendance decline has outpaced that of the SEC by 8% from 08-09 through last season. That's certainly not good. But it's not catastrophic, either. And it occurred under both Pearl and Martin.
Tennessee is averaging nearly 15,000 fans per home game this year despite an uninspiring schedule devoid of any marquee match ups. At best, the "they'll break out the curtains if Cuonzo stays" argument is a gross exaggeration.
"Pearl's teams put up way more points than Cuonzo's teams."
This one is half true. Pearl's first three years in Knoxville the Vols averaged 81 points per game. But his last three years on Rocky Top those numbers fell each season as he gradually went away from his "controlled-chaos" offense in favor of more traditional half-court sets. The 2009-10 Vols who went to the Elite Eight? They averaged 74 points per game. This year's Tennessee team? They're averaging 74 points per game. Pearl's last squad averaged 70 ppg, nearly the same as Martin's first team (69 ppg).
The perception remains that Pearl's teams scored way more points than Martin's Vols.
When referring to his first three years at Tennessee, that holds true. But Pearl moved away from his fast-paced offensive approach his last few seasons in orange.
"Pearl's teams played better defense."
Again, statistically not accurate. The Elite Eight Vols gave up 65.2 ppg. Pearl's last team allowed 67.5 ppg. The Vols are currently giving up 62.6 points per game. Last season they surrendered 63.4 ppg.
"Cuonzo Martin is a terrible coach."
There's an accurate middle ground somewhere between "He's a great coach, he needs to be here forever" and "He's a terrible coach who needs to be fired." Even after Vol wins I'm often inundated with comments criticizing Martin's coaching abilities. What most people miss is that he inherited a mess and has performed reasonably well in nearly three years at the helm.
Let's started with what Pearl left Martin.
Pearl's last team finished 19-15. Martin inherited a squad that would have to replace seven of its top 10 players and 79% of its scoring. To make matters worse, his recruiting efforts were severely hampered by the NCAA cloud hanging over the program—a cloud that didn't lift until after his first class was signed. Only one recruit, Josh Richardson, from his first class has proven to be a reliable starter. Washpun, Makanjoula, and Miller are gone and didn't contribute much during their time in orange. Quinton Chievous is still on the team but has played sparingly.
Saying that they're still recovering from losing nearly an entire class, a class that needed to fill five to seven rotation spots, isn't an excuse, it's a reality. Martin's first class signed under the NCAA cloud featured just one three-star (Richardson). In contrast, the 2014 Vol recruiting class is ranked 19th according to ESPN and features three four-star prospects.
Pearl won 60% of his SEC games his last three seasons. Martin, who many insist is a "terrible coach," is currently winning 60% of his SEC games. Cuonzo is 7-5 against Kentucky, Florida, and Vanderbilt; Tennessee's biggest rivals. Pearl was 8-10 against that trio his last three seasons.
The reality is Tennessee had no business being in the hunt for a tournament bid in Martin's first year. They overachieved and were likely one marquee win away from dancing. Last season's Vols took a step back, but were yet again one win away from a tourney bid. Think about that. We're potentially a tip in against Georgetown and another made bucket away from talking about Tennessee's streak of eight-consecutive tournament berths. That's how thin the margin for error is in major college sports. And that's how close Martin is to being completely off the hot seat and signing an extension.
Don't misunderstand me. I'm not in any way suggesting Martin is a better coach than Pearl. Like I stated earlier, his record speaks for itself. But Martin's certainly not a "terrible coach" by any standard. In fact, if he followed any coach other than Pearl (or perhaps Green), Vol fans might be singing his praises.
"This season is over."
Most of the people who contact me seem to believe it's a foregone conclusion that the Vols won't make the tournament this year despite the fact that they'd probably be in the field if the season ended today. The legacy of this team, and of Martin's tenure with the Vols, has yet to be decided.
Tennessee probably has to make the NCAA Tournament for Martin keep his job. And that's absolutely fair. But he walked into a worse situation than many acknowledge. If you're looking to place blame for the state of Vol hoops, Pearl, the same coach many want to rehire, deserves a share. Afterall, if not for his own failures, he'd still be the coach on Rocky Top.
About The Author