Vol Spring Practice Report: The first day in pads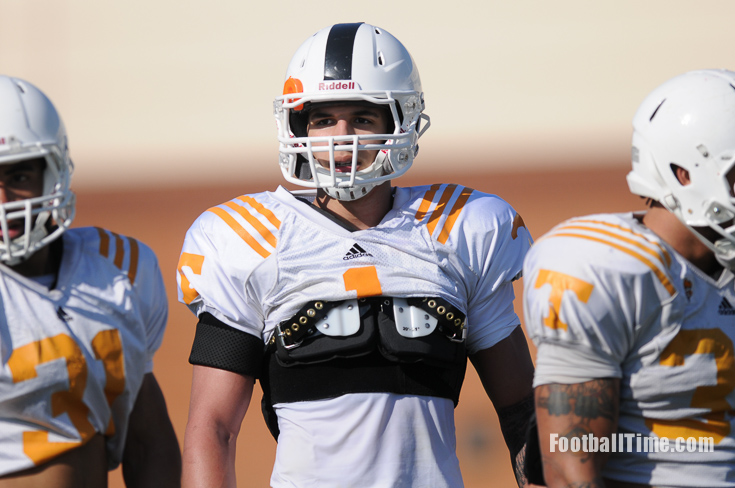 Tennessee practiced for the first time in pads Tuesday afternoon—their first of three practices this week before taking off for spring break. Here are some notes from the field plus a gallery of images.
Notes
*Butch Jones opened practice by throwing several newcomers in the "circle of life" drill—where two players face off and attempt to pin the other to the ground. It's an exercise in physically and it was not surprising to see Jones try to call out several fresh faces early and challenge their toughness in front of the team. Jakob Johnson, LaVon Pearson, Dylan Wiesman, and several other Vols participated.
*We didn't see many footballs on the ground during UT's two practices without pads, but Tuesday was a different story. Vol quarterbacks completed roughly 50% of their passes in the open portions of practice. That's not unusual for a first practice in pads but is something to watch as the Vols continue to practice this week.
*Josh Malone, Josh Smith, Marquez North, Jason Croom, and LaVon Pearson made several nice catches in individual drills.
*Corner Emmanuel Moseley and defensive tackle Owen Williams are two Vol newcomers getting regular work with the first team. Corner D'Andre Payne and linebacker Jakob Johnson have been working with the second team. Jalen-Reeves Maybin, a special teams standout last year, looks to be in the lead for the open outside linebacker spot opposite Maggitt.
*On offense, Ethan Wolf, Coleman Thomas, LaVon Pearson, and Dontavius Blair continue to work with the first team. Daniel Helm, Josh Malone, Jalen Hurd, and Ray Raulerson are working primarily with the second team.
*The coaching staff worked multiple players at kick/punt returner, as they have all spring. That's a race to watch as spring progresses. The Vols have a ton of new speed on the team and the staff wants to see who could emerge as a consistent play maker in the return game. No one has a lead yet, but based on early returns, the Vols should be more explosive in that phase of the game this year.
Injuries
We'll be keeping a running list of injured Vols this spring. The following players will not go through the contact portions of practice. Receiver Ryan Jenkins, tight end A.J. Branisel, safety Brian Randolph, defensive tackle Trevarris Saulsberry, tight end Brendan Downs, and receiver Drae Bowles. No one has been injured during spring practice to this point. If that happens, we'll update the injured list.
Pics
About The Author