New Column: The Midweek Mailbag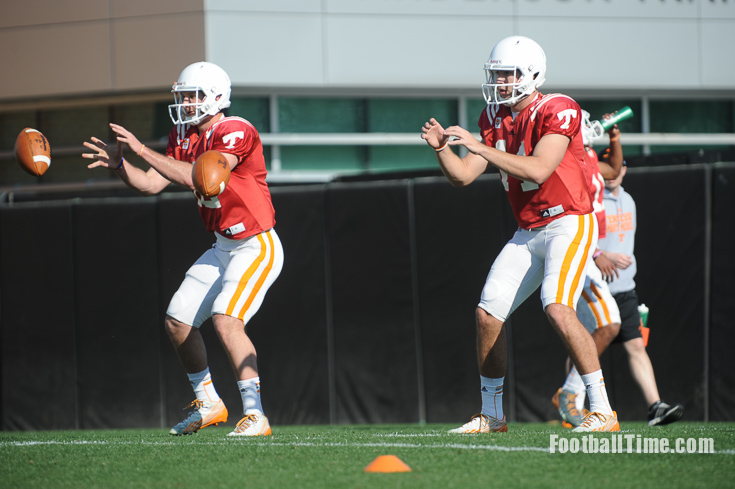 Welcome to a new weekly column, "The Midweek Mailbag." Here, I'll answer your questions about Vol sports (and other things if you have them) every Wednesday. Got questions? Shoot them to me on twitter (@FootballTimeMag), on Facebook, or via email (reed(at)footballtime.com). Let's get to it.
@FootballTimeMag question for your new column, which summer enrollee will have the biggest impact and who gets their black stripe off first.

— VFL1333 (@willypeters13) March 10, 2014
When looking at which summer enrollee will have the biggest impact, you have to start with players at positions of need. The Vols need secondary help, depth along both lines, and someone to compete with Jalen-Reeves Maybin for the starting outside linebacker job opposite Curt Maggitt. There are a ton of possibilities for big impact players of the summer enrollees, but my answer is…kicker Aaron Medley. Tennessee kickers have struggled to consistently make field goals longer than about 30 to 35 yards this spring. This team needs Medley to come in this summer and grab the starting kicking job by the horns. When he steps on campus, he'll have the best leg on the roster. Of the summer enrollees, he has the best chance to start right away and make a huge impact in the kicking game.
Who gets their black stripe off first this spring is anyone's guess. Jones likes utilizing the stripes to motivate newcomers, but it's ultimately up to the "big brother" of each player to remove the stripe when they feel its removal has been earned. Just three practices in, LaVon Pearson looks to be the most polished of Tennessee's early enrollees. He runs crisp routes, knows the playbook, and is already making huge plays. If I'm removing stripes, his would come off first.
@FootballTimeMag Thoughts on Fieldman's tweet about Dobbs? With Riley hype?

— Samuel M (@s_mccahill) March 11, 2014
If you haven't seen it, Bruce Feldman of CBSSports.com published a fantastic Q & A with Vol QB Joshua Dobbs. You can read that here. He also sent out this tweet.
One of the longer answers I've gotten from a coach in a while came in response to the question, "so what impresses you most abt Josh Dobbs?"

— Bruce Feldman (@BFeldmanCBS) March 11, 2014
Nothing Feldman revealed surprised me. Dobbs is one of the most impressive young men you'll ever meet. He's brilliant, respectful, a relentlessly hard worker, and a great athlete. This coaching staff loves him.
How does that relate to the Riley hype? Fans always want to see the QB that's the unknown commodity. Ferguson, not surprisingly, leads our QB poll. That said, the coaching staff has been high on Riley since he enrolled last summer. He has a huge arm and is a decisive leader on the field. Both Dobbs and Ferguson have the tools to compete in the SEC and we should be in for a heckuva quarterback battle headed into the season. It's okay to believe the hype about both Dobbs and Ferguson at this point. They each have the potential to be special.
@FootballTimeMag who starts at qb against Utah St?

— Thomas Duggins (@ThomasDuggins) March 11, 2014
@FootballTimeMag Who do you have as the starting QB entering the fall? Does it change by the end of the season?

— Thomas McWaters (@ThomasMcWaters) March 12, 2014
Those are both million dollar questions. I'm not ready to call my shot yet but I do think it'll be either Dobbs or Ferguson. They're the two most talented QBs on this team and have shown much better command on the field so far this spring. The coaching staff is ready to build around a young signal-caller. That doesn't mean Worley or Peterman won't have a shot, but my money is on either Dobbs or Riley starting Game 1.
If a QB other than Dobbs or Ferguson starts against Utah State, there's a high likelihood that whoever starts the season won't be the starter at the end. They want to see what these young guys can do on the field in a game with a year of practice behind them. Keep in mind, too, that injuries have forced the Vols to use more than one starting quarterback multiple times the last few years. Odds are overwhelmingly in favor of us seeing more than one starter this season.
@FootballTimeMag#midweekmailbag question: what is your opinion about having Oklahoma on the schedule & cld Vols have been helped by buyout?

— S D Davis (@stu623) March 11, 2014
It's not a popular opinion, but I have been arguing that Tennessee should buyout Oklahoma for a long time. When you play in the SEC, a tough non-conference schedule does nothing for you. When you're in a place like Tennessee as a historic powerhouse that's struggling to get bowl-eligible, playing Oklahoma/Oregon/etc does far more harm than good. If the Vols had played a middling non-power conference team rather than Oregon last year they would have gone bowling.
Would you rather get embarrassed by Oregon or beat a patsy and go to a bowl? Postseason play is a necessary first step for the Vols as they strive to get back to being a perennial top-25 team. Playing Oklahoma will not help them get there.
Last season, Florida State won the national championship despite playing the No. 62 schedule in the nation. Who you play simply doesn't matter as much as picking up wins. That may change with the impending playoff format, but the Vols aren't in a position to compete for a spot in the playoffs this season anyway. Even if they were, when your team plays Alabama, Florida, Georgia, and South Carolina every year, your team doesn't need to schedule powerhouse non-conference opponents to earn respect. Teams in the final AP top-5 averaged a strength of schedule of 34th per Sagarin. The Vols came in at No. 10. When the top teams in the country aren't playing a top-10 schedule, why should the Vols?
@FootballTimeMag Who you got: Arsenal or Bayern? Since you're publishing tomorrow, there's really no excuse to be wrong.

— Mac B fröm Tennessee (@mac_b_from_tn) March 11, 2014
You can count on three things in life: death, taxes, and Mac B bringing up soccer with regularity. Though by no means a soccer expert, I used to follow Bayern closely. I was surprised to see Arsenal play them to a 1-1 tie. Bayern won a record 16th straight Bundesliga game over the weekend and they haven't lost in league play since October 2012. It doesn't look like they'll be stopped anytime soon.
@FootballTimeMag if you could see any band live past or present… Who would it be… Oh you mean UT sports….

— DC (@dccoletrain) March 11, 2014
The mailbag will focus primarily on UT sports…but anything to do with life, liberty, and/or the pursuit of happiness is fair game. This may be the toughest question of the week. The Rolling Stones in their prime would probably be at that top of my list—but they'd have serious competition from Stevie Ray Vaughan, Jimi Hendrix, and Johnny Cash.
About The Author