Vol Spring Practice: Pearson makes plays, DB talk, and other notes.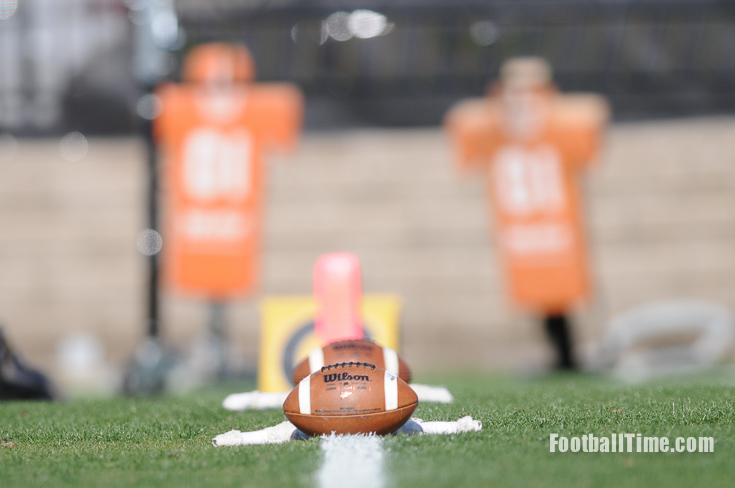 Tennessee practiced for the second time in pads Thursday afternoon in preparation for their Friday scrimmage. Here are a few notes from the practice field.
Notes
*LaVon Pearson continues to show why he was ranked as the No. 2 JUCO prospect in the nation per ESPN.com. In a 1-on-1 drill vs. Malik Foreman, Pearson made a spectacular one-handed catch against great coverage (see video below). Last season revealed how badly UT needed playmakers and just four practices into spring it's safe to say Pearson will be turning heads this fall. His ability to make something out of nothing will go a long way towards helping the Vols overcome an inexperienced offensive line and questions at quarterback.
*Jalen-Reeves Maybin looks much bigger this spring. He's the presumed leader to enter fall camp as the starting outside linebacker opposite Curt Maggitt and he certainly looks the part. He's going to be tough to keep off the field—Vol defensive coordinator John Jancek said Maybin "has a ways to go" but "will be an every down linebacker for us" after practice.
*Curt Maggitt appears to be 100% healthy. He's been a full go, as expected, so far and his leadership, speed, and physicality have been noticeable. Though he's still knocking the rust off, he's been turning heads.
*Devaun Swafford worked at safety has he has all spring. He's taken over the spot vacated by the injured Brian Randolph. Justin Coleman has been working almost exclusively at nickel. Tennessee needs to upgrade that position and Coleman has performed well in that role. Speedster D'Andre Payne continued to work with the second team at corner. The Vols are a little thin in the secondary, but the group as a whole is quicker and more athletic than last year. Look for significantly improved play from the Tennessee secondary this season.
*The team as a whole was much more comfortable in pads today, as expected. Individual drills were more fluid and the newcomers are getting adjusted to the pace of Tennessee's practices.
*The coaching staff is working hard on getting Jalen Hurd to play lower (see video clip below). There's no doubt he's taller than your average running back. They've been coaching him closely in an effort to get him to lower his pad level and minimize the potential for him to take big shots. The athleticism is clearly there for Hurd to be a star. The coaching staff has made him a priority this spring which should tell you a ton about what they think of him as a player.
Quotes
Vol receivers coach Zach Azzanni on LaVon Pearson: "Von has endless energy. He'll tap me on the butt when I'm yelling at him and I love that…I'm not sure Von has an off switch, which is good. He doesn't have a bad day. He's a glass half full all the time kid and we like to be around that…He's been playing everything. He's inside. He's outside. No. 2 in trips."
Azzanni on Pearson's route running: "He's not very polished. That's going to take some work but I knew that. He's raw, he's gifted, he's athletic. He picks it up pretty fast. He's got a long way to go as far as being a true receiver, but it's fun to coach him because he can pick it up pretty quick."
Azzanni on North: "His game has also improved. It's scary how much better he can get. He had a great offseason."
Azzanni on Croom: "He's playing as big as he is finally. I still think he's got a lot more in the tank, scary enough. The game's slowing down for him. He's starting to understand what he can do… he's a great kid too. I love coaching him. I'm hard on him because he can take it. He's certainly slowly but surely looking like an SEC receiver so it's fun to watch."
Azzanni on Josh Smith: "Josh had knee surgery right after the season so it really hampered his development this winter. While everyone else was running around he was rehabbing. He's really the same player he was at the end of the season. So we've got to speed him up…he's a lot further behind where I want him to be because of the surgery. So I've got to catch him up…he's a tough kid now. He comes out here and competes. His first full go was the week we started practice. That was when he was cleared."
Azzanni on moving receivers around: "We've really made a push this year, because it's year two in the offense, we have so many pieces to the puzzles. Those guys are playing everything. You're never gonna know where Marquez North is anymore. We're going to move them everywhere."
Injuries
We'll be keeping a running list of injured Vols this spring. The following players will not go through the contact portions of practice. Receiver Ryan Jenkins, tight end A.J. Branisel, safety Brian Randolph, defensive tackle Trevarris Saulsberry, tight end Brendan Downs, and receiver Drae Bowles. No one has been injured during spring practice to this point. If that happens, we'll update the injured list.
Video
About The Author