Rapid Reaction: Bruce Pearl Hired At Auburn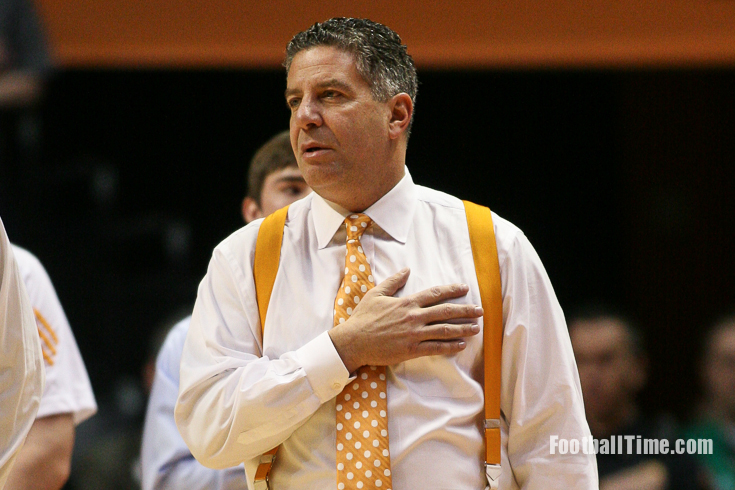 A day many had feared has arrived. Bruce Pearl has returned to coaching, at a team in the SEC that is not The University of Tennessee. Bars and liquor stores across Tennessee will likely see a one day spike in business of 800%. Here are my initial reactions:
Auburn Made The Hire Of The Year
The Tigers have hired the coaching equivalent of *several* Five Star recruits. Bruce Pearl has won big at every single spot he's been. He's bonded with each fanbase, engendered loyalty from players and administrative staff and donors, raised money for local charities, and flat brought moments of joy reliably each season. Auburn has never and will never have it as good as they'll have it under Bruce Pearl. Let's face it, if Auburn basketball can't succeed as a program with Pearl at coach, it might be time to think about just fielding a team of walk-ons every year and being done with it. Send the school rec league teams out there. At least it would be funny.
The Leverage In The Tennessee-Cuonzo Martin Relationship Changed Dramatically
There was chatter, even as recently as 24 hours ago, about the prospect that Martin could take a lateral move to escape some of the negativity from a loud segment of the Bring Back Bruce crowd. That was unlikely previously. If you look across the Big 10, the most likely place for Martin to land, the head coaches there are largely secure for now. Both Indiana and Purdue were bad this year, and with Martin a Purdue alumnus that makes a lot of sense, but the buzz around Purdue is that Matt Painter is secure for now. Indiana has some noise around the program, but if they replace Tom Crean, they'll likely look to make a splash hire. Cuonzo Martin isn't that. Could that still happen  with another conference? It could. Cuonzo Martin has options. With Pearl at Auburn, there is no natural succession plan, other than for Tennessee to try to get Coach Pearl to pull a Billy Donovan, which is simply not happening. That means, contrary to the chatter Martin and his staff have endured all season, they are now the ones in power. Which brings us to the third take:
Cuonzo Martin & His Staff Are Getting Paid
Can anything happen in this crazy business? Of course it can. Here's what's likely to happen:  The Tennessee athletic department stands up and says "This is our coach. Period." Cuonzo Martin will likely get a handsome raise from his current salary, which is 11th in the conference overall. His staff will also see a nice quality of life adjustment as well. It's remarkable how fast their fortunes changed because of the decision of one man. Bruce Pearl is an addiction. He's the WiFi to Tennessee Basketball's Internet. Your original addiction is to the Internet. But WiFi is what makes the addiction flow. It becomes its own addiction, separate and distinct from the original.

This much is clear: everyone at Tennessee should rue the day Coach Pearl was fired. The program had never soared higher than under his watch and the NCAA is a hypocritical and terrible institution that over punished Pearl for the sake of it's own sanctimonious ego. It was an awful day in the life of Bruce Pearl and an awful day in the history of the University of Tennessee. Today cemented the fact that it's almost impossible that the two sides will ever be reunited again.
About The Author