Dealing With The Bruce Pearl Addiction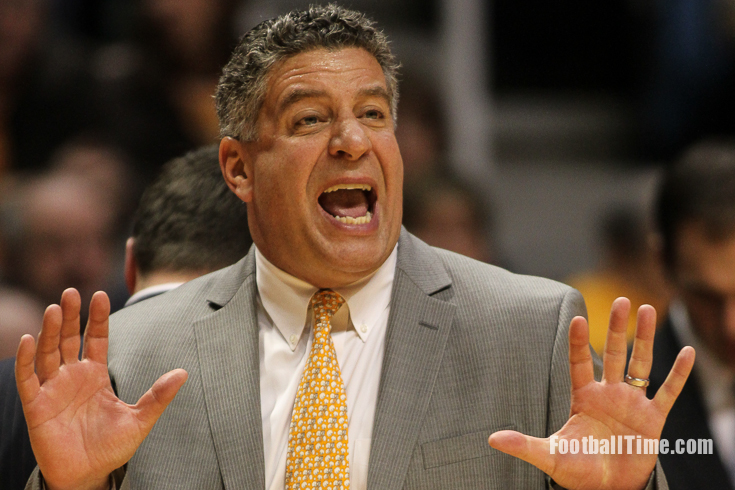 So yesterday, Tennessee fans abused their livers as they watched this on loop: Bruce Pearl conquers Auburn or Bruce Pearl owns every Auburn soul imaginable or this, damn it, Bruce Pearl is awesome. In the interest of full disclosure, I did watch these things briefly. Yes, with a drink. But where I really punished myself was by watching old Vol Network DVD's of some of Pearl's seasons here. These are rough times in the Kingdom. Lots of you clicked on my Rapid Reaction piece from yesterday and I really appreciate that. As I've had time to mull, watch events and think things out, there are two facts that ground me to reality:
The Vols are in the Tournament and structurally secure to keep landing there: The Nike contract is a huge deal. It will keep recruits pointed in the Big Orange Direction. That is a far better position to be in than to have to be an Under Armour school. Just ask Maryland.
Bruce Pearl is at a 'Prove it' spot, not a destination: Auburn isn't a destination in basketball. They're the job you take to prove you're capable of the job you want. Bruce Pearl could be to Indiana what John Calipari was to Kentucky: the big splash hire with footnotes that they know will win. Remember Bruce Pearl knows the Big 10 as an assistant and knows the area as a coach. Indiana interest after a year or two more of Tom Crean lukewarmness makes perfect sense.
So how should this impact you as a Tennessee fan? Well, given that you had a healthier reaction than I did and went to bed rather than watching DVD's and thinking of options, you're doing ok. If you were similar to me, I don't know that I'm the best person to be making suggestions. Bruce Pearl is an addiction. So how do we move on? Here's how I plan to: by rooting as hard as I can for Tennessee tonight. That's what you should do too. Root hard for these players and this team. Root cleanly. There is no possible alternative agenda. Bruce Pearl isn't an option anymore. He's moved on. He's buying pizza for someone else. Bruce Pearl is the person many of us loved that was forced away from us by forces we could not control. They're not easy to get over when you see them moving forward with their lives. That needs to be acknowledged. It's only fair. But how you punch your way out of it is usually by keeping busy and meeting new people.
So here is the Football Time Suggestion: Tonight, The University of Tennessee plays in the NCAA Tournament. Shake off whatever you did to yourself to deal with the Bruce Pearl news, get dressed up, go watch the Vols tonight. They deserve your loyalty. They've played hard all year, provided plenty of moments of joy and didn't deserve what they got on social media. You owe them. The alternative is in Auburn. And if it's ever back in Knoxville, Vegas will break. This is quite like Babylon Revisited, which you should read.
Your blood bleeds orange. Your Tweets should reflect that.
Go Vols. Yes, these Vols.
There aren't other Vols to root for. Come to peace with that.
About The Author