Tennessee Vols get a chance to battle-test themselves against Iowa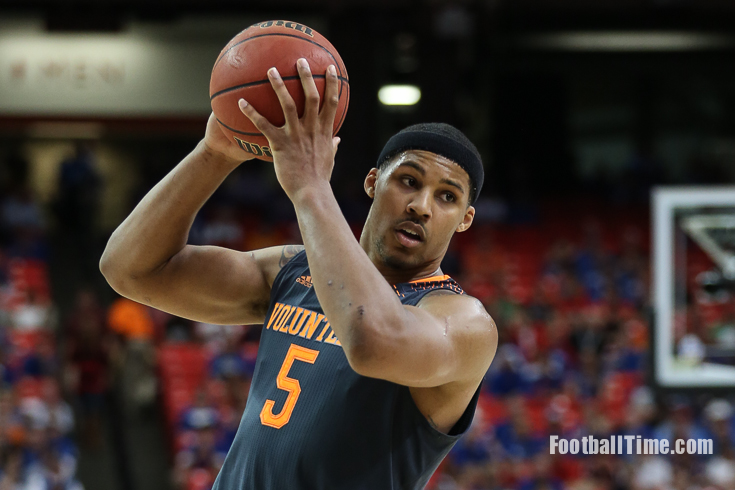 Tucked away on a shaded corner in a vine-covered building on Prentiss just off Gilbert Street–which leads you towards the more well-lit establishments near campus in the Ped Mall–Iowa Hawkeyes fans routinely gather at The Vine Tavern & Eatery on Wednesday nights for cheap drinks and classic bar fare. Roughly 700 miles to the southeast in a shaded corner of their own on Lake Street off Cumberland Avenue, Tennessee Volunteers fans routinely do the same at Cool Beans Bar and Grill.
However, beyond the drink specials and the occasional barfarer who has managed to stumble into both on at least one occasion, these two establishment remain separate entities, blissfully unaware of each other's existence. Outside of the shared experience of former Iowa and Tennessee star Tyler Smith, it's safe to say that these two places have no more in common than any other off-the-beaten-path bar in any other off-the-beaten-path place.
Yet, on Wednesday night, when Tennessee and Iowa meet in their First Round matchup, these two bars and several others in both Iowa City and Knoxville and in stops along the way will become kindred spirits, reveling in a new temporary rivalry.
The bar banter will take on varying tones in these places. Iowa fans will be hoping the Hawkeyes can regain their early season form when they peaked at No. 10 in the AP rankings before losing six of their last seven games.
Meanwhile, the Volunteers won five straight games by an average scoring margin of 23.4 ppg before a tight loss to the No. 1 Florida Gators in the SEC tournament semifinals.
Yet, despite the fact that these two teams appear to be trending in opposite directions, it remains an interesting matchup for both the Tennessee Vols and the Iowa Hawkeyes.
Iowa is a prolific offensive team led by big, versatile scoring guard Roy Devyn Marble. Tennessee, on the other hand, is a defensive-minded team with a lengthy backcourt challenging shots on the perimeter and the meatiest frontcourt in the country dominating the glass.
In a way, it's seemed like these two teams were destined for each other ever since failing to meet in the Battle 4 Atlantis semifinals as originally anticipated. The polar opposites have been magnetically hurdling towards each other throughout the season and they're finally set to collide in Dayton.
And if Tennessee can come away with the victory, the bracket potentially sets up nicely for them to make a run.
Awaiting the winner of Iowa and Tennessee is UMass. And while the Minutemen are far more accomplished this season, it is a team that Tennessee beat handily just a year ago, and, on paper, their physicality certainly stands to give Massachusetts–who also struggled down the stretch–problems.
Then, likely awaiting the winner of it all will be the Duke Blue Devils.
Beating the Dukies would admittedly be a longshot, but, once again, Tennessee's perimeter length and interior toughness would be an interesting challenge for Coach K and the nation's most prolific freshman, Jabari Parker.
Of course, all this is happenstance if you don't beat Iowa on Wednesday night in Dayton, and that's as tough of a matchup for Tennessee as Tennessee is for anyone else. However, the fact that we can even begin to discuss the possibility of UT as a sneaky Sweet 16 team is a testament to the growth of this team all to itself.
The Vols are playing very good basketball, and in stretches they're capable of being downright dominant.
Those spurts of dominance often hinge on whether or not Antonio Barton takes care of the basketball and hits open shots, or whether Jordan McRae takes it upon himself to commandeer the game, but at its foundation has been Jarnell Stokes.
We always knew that Stokes was a bullmastiff of a man capable of overpowering opponents, and Tennessee's recent success is pillared by the fact that he's turned into a walking, talking double-double. However, the true genesis of his game has been his ability to circulate the offense.
That's not something that always shows up in a box score (although Stokes' assist numbers as a big are certainly impressive), but if hockey assists were a thing in college basketball, Jarnell Stokes would certainly be racking up a ton of them.
That's because, as a talented big worthy of a double-team, he's developed from somebody who powers through traps to somebody who passes over them. And, as somebody who could only ever shoot in his life, I can tell you that's a spot-shooter's dream.
Considering that Tennessee has a rotation littered with streaky spot-up jump-shooters, it's really helped the Vols progress offensively to the point where they can be as efficient as any team in the country offensively (they ranked 29th in Ken Pomeroy's AdjO ratings).
Defense will certainly remain at the core of Tennessee's identity, but if the Vols show up in Dayton and knock down some shots and prove they can score with the Iowas and Dukes of the world, they could be the talk of more than bars in Iowa and Tennessee.
They could be the talk of bars all across America. The dangerous 11-seed playing their best basketball at the right time. The one capable of making a little postseason run, busting up brackets and cementing themselves as a program once again.
About The Author