The (late) Midweek Mailbag: NCAA tourney, spring practice, and more!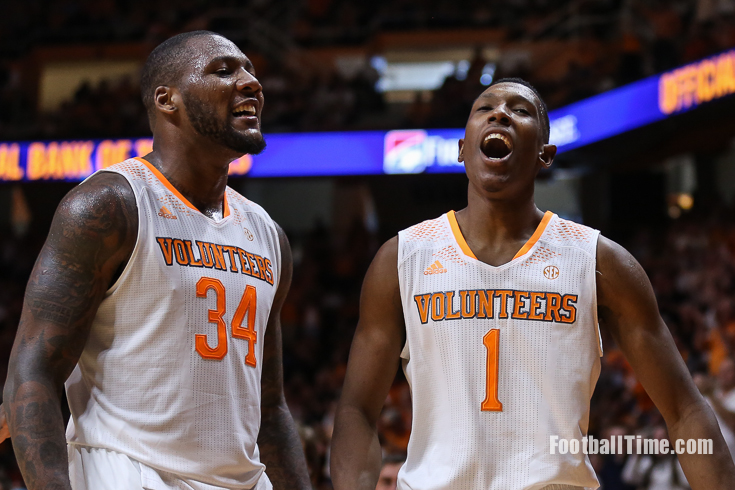 Welcome to a new weekly column, "The Midweek Mailbag." Here, I'll answer your questions about Vol sports (and other things if you have them) every Wednesday. Got questions? Shoot them to me on twitter (@FootballTimeMag). Let's get to it.
@FootballTimeMag what's the absolute furthest you see the basketvols going?

— Thomas Duggins (@ThomasDuggins) March 18, 2014
The Vols sprinted to the second round of the NCAA Tournament after closing strong late in the second half and in overtime in their Wednesday matchup with Iowa. Tennessee gets No. 6 seed UMASS at 2:45 pm Friday afternoon. Martin's squad is favored by 5.5 points per VegasInsider—Tennessee is the only 11-seed favored over a 6-seed in the tournament.
Last season, Tennessee downed a similar UMASS team on a neutral floor thanks, in large part, to 24 points and 12 rebounds from Jarnell Stokes. The Minutemen don't have an answer for Stokes in the paint and lack depth. If Stokes gets their bigs in foul trouble, they won't have anywhere to turn. Josh Richardson did a nice job on the Minutemen's leading scorer, Chaz Williams, last season. Williams went for 16 points but was an inefficient 5-15 from the floor. Richardson won't be able to neutralize Williams, but he should be able to slow him down. The Vols have more depth, playmakers, and muscle than UMASS. This is a good matchup for Tennessee, one I expect them to win.
Should the Vols advance, they'll probably face Duke. That would essentially amount to a home game for the Blue Devils. Duke isn't playing all that well and struggles against teams with size. Richardson should be able to slow down star freshman Jabari Parker. The Vols won't be favored in that one, but it is a game Tennessee could win. That would put them in the Sweet 16 where, best case scenario, I think their run ends against Michigan—a team many have making the Final Four.
@FootballTimeMag Per your comments, if CCM leaves, what do you think of the AD's next move? CBP is not available until August?

— Todd Mawyer (@ToddMawyer) March 18, 2014
Cuonzo Martin isn't leaving Tennessee this offseason unless he chooses to jump ship to another job. He should get a raise and extension from Dave Hart (he was the 11th highest paid coach in the SEC this year, yet is leading one of three SEC teams in the NCAA Tournament), but if another team approaches him, don't be surprised if he listens. A portion of Vol fans were consistently toxic this season. If he chooses to escape that, no one should blame him.
As everyone knows, Bruce Pearl was hired by Auburn earlier this week. He was never coming back anyway. If Martin leaves (I don't think it's likely, but I do think it's possible), the Vols would have trouble attracting a proven head coach. Martin has increased his win total every season since coming to Rocky Top. He is averaging 20 wins a year. If the lack of fan support leads him to look elsewhere, the Tennessee job just won't be that attractive. Plus, if he leaves, whoever the Vols hire will STILL be compared to Bruce Pearl—especially with Pearl back in the SEC.
I haven't heard any specific names from folks in the know and Tennessee doesn't want to conduct a coaching search. Unless Hart is willing to throw a ton of money at a proven coach, and I mean a TON of money, they'd probably have to go the route of poaching a coach from a mid major program, just as they did with the Martin, Pearl, and Peterson hires.
@FootballTimeMag Realistic chances of landing Trent Thompson

— Thomas McWaters (@ThomasMcWaters) March 19, 2014
Trent Thompson is the No. 1 prospect in the nation per 247Sports. The 6-4, 292 pound defensive tackle from Georgia attended one of Tennessee's camps last summer but hasn't visited Knoxville since. The Vols are in the top-10 for Thompson, but I suspect he'll end up at Georgia or Florida State. I'd put Tennessee's chances with Thompson at less than 5%.
@FootballTimeMag How much of a deficit do we have on o & d line? Any improvements?

— Volstorm (@volstorm00) March 12, 2014
This may be a bit bold, but I think the Vols will be better along on the defensive front by midseason. They lost experience, but didn't lose any consistent playmakers—Tennessee's d-line went over four games without a sack last season. Corey Vereen has been disruptive so far in spring practice and looks primed to have a breakout season.
On the other side of the ball, the middle of Tennessee's line should be fine. Mack Crowder, Marcus Jackson, and Kyler Kerbyson have played together for a couple years and sophomore Dylan Wiesman could see rotation time. Newcomers Blair and Thomas have the size and skills to be SEC tackles but will go through growing pains early. I'll know much more about UT's line by the time spring practice wraps up. For now, it's safe to say they'll have the necessary size and strength to be successful if they progress from now until the season kicks off.
@FootballTimeMag what non early enrollee has the chance to have the biggest impact on offense and on defense?

— Todd Dillon (@VolStang11) March 12, 2014
This is tough to narrow down without seeing them play against college athletes so I'll give you a few names to watch. I expect Vic Wharton and at least one of the Berry twins to make a big impact no matter where they end up lining up. The Vols need more speed across the board. Wharton, Evan, and Elliot will be among the fastest players on the team. On defense, RaShaan Gaulden, Cortez McDowell, and Todd Kelly Jr. are three signees to watch early in fall camp. The Vol secondary needs depth, playmakers, speed, and athleticism. Only Cam Sutton and Brian Randolph have starting jobs locked down so don't be surprised if at least one of those three pushes for a starting job. At linebacker, Chris Weatherd should come in and immediately challenge Jalen-Reeves Maybin for a starting spot.
About The Author