Offense dominates the Orange and White game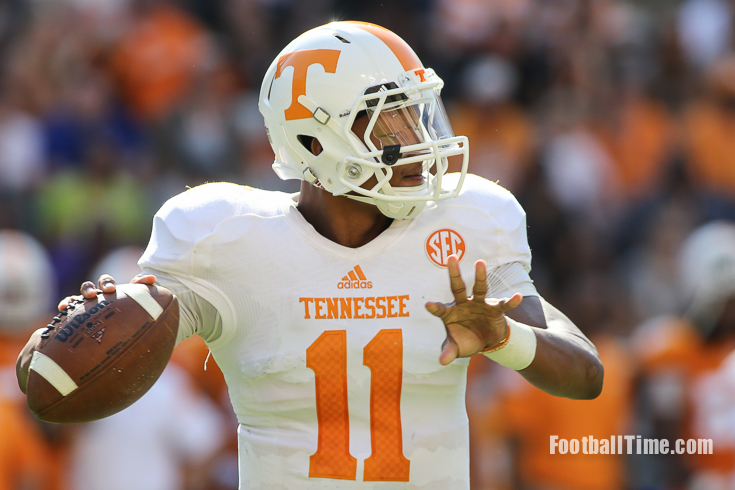 The Vols topped off an impressive spring with an explosive offensive performance Saturday afternoon. When the clock expired, the offense held a 129-100 scoring advantage. Tennessee's increased talent level and ability to make big plays proved to be the biggest takeaway from the Orange and White game.
Quarterback: Josh Dobbs, who entered the day third on the depth chart, put in a massive performance. He was 6-9 for 199 yards and three TDs and had two carries for 59 yards and one touchdown. Senior QB Justin Worley was an extremely efficient 11-13 for 151 yards and one touchdown and even added two carries for 55 yards. Ferguson (7-12 for 83 yards, one TD and one INT) and Peterman (8-11, 81 yards, one TD) were also effective. Ferguson showed off his big arm on a touchdown pass to Cody Blanc and a long pass to Josh Smith. He still needs to take fewer sacks and take better care of the football, but he has been making strides in those areas and should continue to improve over the summer. At spring practice's conclusion, it's clear that no matter who starts for the Vols at QB, they'll get better quarterback play than last season. This race might come down to the week of game one—just like it did last year.
Running backs: Tennessee's five-star freshman, Jalen Hurd, was UT's leading rusher (11 carries for 66 yards and one TD) despite not being given many holes to run through. He did an excellent job of lowering his pads and picking up tough yards between the tackles and showed an ability to catch the ball out of the backfield. He's going to be hard to keep off the field this fall. Marlin Lane, running mainly behind Tennessee's first team line (and against the first team defense), struggled to find room to run (nine carries for 23 yards and one TD). Don't let today fool you; Lane will likely head into fall camp as the starter. He's had a big spring with the exception of the Orange and White game.
Receivers/Tight Ends: Josh Malone, who struggled during last Saturday's scrimmage, showed off his five-star talents with six catches for 181 yards and three touchdowns. He caught two touchdown passes from Josh Dobbs, both on relatively deep balls. Malone has all the tools to have a huge season this fall. Marquez North had over 100 yards receiving on five catches and should benefit greatly from having more weapons around him this season. Josh Smith, Ethan Wolf, Cody Blanc, and Von Pearson also had solid days with 10 catches between them. Josh Smith, who was cleared for contact on the first day of spring practice after undergoing knee surgery this fall, has been making big plays the last couple of weeks. He's 100% back from the knee injury which slowed him last season and is looking to have a breakout year. This isn't hyperbole—Tennessee's receiving corps could be one of the best in the SEC by season's end.
Offensive line: The line rebounded a bit after struggling mightily last scrimmage. As a whole, the entire line was more than adequate in pass protection. They surrendered four sacks but most of them were from the QBs holding onto the ball too long. Dontavius Blair, who was expected to come in and win the starting left tackle job before being relegated to the second team midway through spring, had one of his better days. Run blocking was a struggle for most of the afternoon, though. At times, the middle of the line opened up a few holes, but not consistently. They're going to have to grow up this summer and will take some lumps early, but today was a step in the right direction when viewed in context of the rest of spring.
Defensive line: The center of the line was effective plugging running lanes but didn't generate much pass rush. Tennessee's ends got after the quarterback reasonably well but missed a couple of tackles. Defensive tackle Owen Williams, a likely starter, turned in five tackles (one for a loss). The Vols will count on him this fall and his development this spring is a good sign moving forward. Curt Maggitt has been playing end during nickel situations, didn't see a ton of work but still registered three tackles (one for a loss). Freshman Jakob Johnson will play defensive end moving forward. He showed the ability to be physical at the point of attack (three tackles) in limited action. This group, which is replacing six of its top-eight rotation players, will have to continue to improve this summer. An influx of defensive line recruits before fall camp should provide more playmaking ability and depth.
Linebackers: Tennessee's starting linebackers didn't play a ton but Jalen-Reeves Maybin was active with seven tackles (second on the team) and Kenny Bynum was impressive in relief of A.J. Johnson with a six tackle day. This group will be faster, bigger, and deeper than last year and you saw glimpses of that in the Orange and White game.
Secondary: Tennessee's talented group of receivers abused the Vol secondary at times. Sutton, Moseley, and Coleman gave up a few plays but didn't have much help from the safety position. Sutton was burnt deep by Marquez North on a busted coverage that didn't look to be his fault. Safety Devaun Swafford missed a tackle which led to a Marlin Lane touchdown. LaDarrell McNeil whiffed on Worley in the open field which led to a 49-yard run. Brian Randolph returns this fall and several Vol newcomers will push McNeil for his starting spot. With improvement at safety plus continued development from Moseley, don't expect this group to struggle as much this season as they did today.
Special Teams: Place kickers were perfect and Matt Darr averaged 46.6 yards per punt (five attempts). Tennessee's kickers have improved a great deal this spring.
About The Author