Tennessee basketball coaching candidate hot board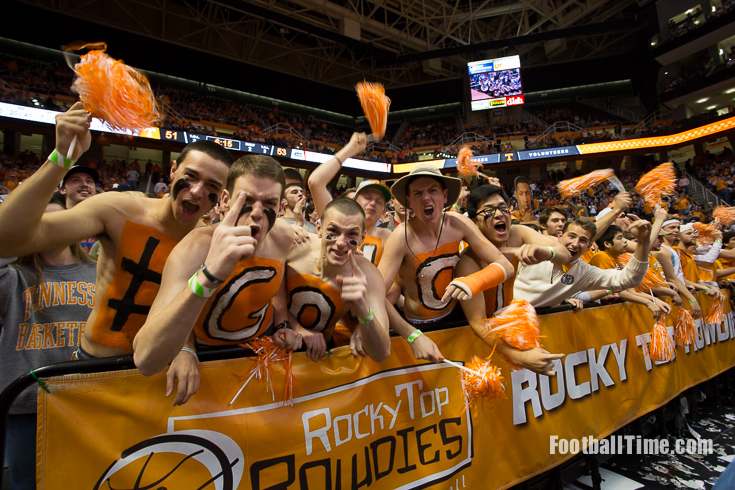 Another offseason, another coaching search. Such has been the way of the world around Tennessee athletics the past few years. With former Tennessee head coach Cuonzo Martin bolting for California Tuesday afternoon, the third-winningest program in the SEC the last six years is without a head coach. If the Vols want a proven coach, they're going to have to start investing more money in their basketball program. Last season, Tennessee ranked 74th nationally, and 13th in the SEC, in spending on hoops. It'll take more than the $1.8 million salary Hart proposed to Martin to lure a top coach to Knoxville. Here's a breakdown of coaches Dave Hart could target with pros and cons for each candidate. The top-three are coaches I would make say "no" before moving on to the rest of the field.
Gregg Marshall (Wichita State)
Pros: His resume speaks for itself. He's won 70.5 % of his games and made the NCAA Tournament in 10 of his 16 years as a head coach. He's been to a Final Four and is just 51 years of age. He's won 16 regular season and conference tournament championships. Marshall also isn't making a ton of money ($1.75 million per year).  He's a proven winner who coached Wichita State to an undefeated season and a No. 1 seed . Can he take the Shockers any higher? Probably not. He might be looking for a good opportunity in a power conference and has listened to overtures from UT before.
Cons: There are no cons on the court. Off the court, he's notoriously hard to work with and is not in any way a salesman. He hasn't endeared himself to those around him. That's not a big deal to fans, but it is to folks who make decisions. He's also not likely to leave Wichita for Tennessee. He's turned down $2+ million offers from major conference teams multiple times.
Shaka Smart (VCU)
Pros: He's young, energetic, plays an exciting style, and is a winner. In five years as the head coach of VCU, he's won 75% of his games. In his second season as a head coach, he took VCU from a "play in" game to the Final Four. His teams have made the NCAA Tournament (and won at least one game) in four of his five seasons as a head coach.
Cons: He isn't likely to take the Tennessee job after turning down Marquette (he's from Wisconsin), UCLA, and a host of other programs. He makes $1.5 million and UT would have to offer him well over $2 million to even get him to listen.
Ben Howland (Former UCLA HC)
Pros: He has 19 years of head coaching experience and took UCLA to three consecutive Final Fours including a championship game appearance. He boasts 12 regular season or conference tournament championships during his stops at Northern Arizona, Pittsburgh, and UCLA. All told, he has won 66% of his games. Howland has coached more than a dozen players who went on to play in the NBA and was an elite recruiter for most of his tenure at UCLA. He is currently unemployed and likely to listen to a Tennessee offer.
Cons: His last five years at UCLA were plagued by inconsistency. After three straight Final Fours, his teams won just 2 NCAA tournament games in five years despite having one of the most talented rosters in the nation. During the same time period, disciplinary issues surrounded the program and multiple recruits were investigated by the NCAA. He plays a "slow it down and grind it out" game, one with which Vol fans have expressed displeasure. He was scheduled to make $2.3 million last year at UCLA and won't come cheap.
Archie Miller (Dayton)
Pros: He's young, a rising star, and just led his team to the Elite Eight, somewhere the Vols have been only once in over 100 years of basketball. In three years as a head coach, he's won 62% of his games. He has experience as an assistant at traditional basketball powers Ohio State, Arizona, and NC State. Financial details of his new contract aren't available, but Miller made $335,000 last year according to USA Today so he'd certainly be affordable.
Cons: He's been to just one NCAA Tournament and has a mediocre conference record in the Atlantic 10 (26-22). He's more of a risk than some of the other coaches listed despite having a huge upside.
Tad Boyle (Colorado)
Pros: Boyle served as the director of basketball operations at Tennessee in 1997 on Jerry Green's staff, so there is a connection to the Vols. He took a terrible 4-win Northern Colorado team in his first year to 25 wins in his last before taking the Colorado job. He's been to three-straight NCAA Tournaments at Colorado and has a fantastic 51-7 record at home.
Cons: He's from Colorado and has called it his "dream job." Would he be willing to leave? His conference record (39-31) leaves something to be desired.
Rick Byrd (Belmont)
Pros: He's making between $500,000 and $700,000 at Belmont depending on whose numbers you trust. He's affordable. And he's taken his team to the NCAA Tournament six out of the last nine years and won 10 regular season or conference championships in the same timespan. He's a proven winner who can consistently beat more talented teams and is a Knoxville native.
Cons: He's been at Belmont since 1986 and hasn't indicated the willingness the leave. Fair or not, at 60 years of age, he doesn't have the youthful draw of some other coaches.
Michael White (Louisiana Tech)
Pros: He's a young, up and coming star. In the 10 years before he took over, Louisiana Tech averaged 15 wins and 16 losses a season. White's three years on the job have seen the Bulldogs go 74-31 (70.5%), win two regular season conference championships, and receive their first ranking in the AP Poll in over 20 years. He's making $500,000 a year and has a $500,000 buyout. Those are numbers UT can deal with. Before taking the head job at LA Tech, he spent seven seasons as an assistant at Ole Miss where he also played for four years (1995-99). He has extensive recruiting ties in the SEC and developed a reputation as one of the top assistant coaches in the nation at Ole Miss. He would listen to UT and a source at Louisiana Tech thinks he could end up in Knoxville.
Cons: He doesn't have an NCAA Tournament berth on his resume and the last coach UT hired from LA Tech didn't work out well—he could be a tough sell from that standpoint.
Donnie Tyndall (Southern Mississippi) 
Pros: In six seasons at Morehead State, Tyndall (43) won 58% of his games and went to the NCAA Tournament twice. He spent the last two seasons at Southern Miss where he narrowly missed out on the Big Dance despite going 56-17 (78%). He has won three conference championships in 8 years as a head coach and makes $500,000 annually. He was an assistant at LSU from 1997-2001 and has some familiarity with the SEC.
Cons: Would fans embrace a coach who hasn't made the NCAA Tournament at his current job?
Allan Houston (Knicks)
Pros: He was an All-American at Tennessee and is its most successful recent NBA player. Houston was a two-time All-Star with the New York Knicks and a gold medalist in the 2000 Olympics. He is a well respected basketball mind and serves as an assistant general manager with the Knicks. Former UCONN/NBA player Kevin Ollie just led his team to a national title in his second year as a head coach. The former player mold could work with Houston.
Cons: He doesn't have experience as a coach at any level. Dave Hart said they'd pursue someone with head coaching experience in his Tuesday afternoon press conference so that would seemingly rule out Houston. Ollie, unlike Houston, had experience as an assistant coach before taking the UCONN job. Houston hasn't indicated a desire to get into coaching.
Tim Miles (Nebraska)
Pros: He helped guide North Dakota State to Division-1 basketball before taking over as the head coach at Colorado State. In his first year, the Rams won seven games. He increased his win total every year at CSU and won 20 games in his fifth year, a season in which the Rams made it to the Round of 32 in the NCAA Tournament. He took the Nebraska job two years ago and went from 5-13 in conference play in year one to 11-7 in year two. The Cornhuskers made the Round of 32 this season after squeaking into the tournament. Two of the last three years, his teams have made the tournament and won a game.
Cons: Miles has earned just two NCAA Tournament bids in his last 7 years as a head coach. He's won 55.6% of his games which is worse than the winning percentage of three of UT's last four coaches.
Chris Mack (Xavier)
Pros: He's young (44) and has extensive NCAA Tournament experience—in five years as the head coach of Xavier, his teams have advanced to the tournament four times and made the Sweet 16 twice. He boasts a 111-57 record (66%) and two regular season conference championships. Xavier hasn't released details about his salary but it was believed to be in the $500,ooo range based on a deal he signed in 2011. He recently listened when California reached out to him and might do the same if UT were to make an offer.
Cons: He played at Xavier and is from Ohio. Mack may not be willing to leave the confines of his alma mater for the SEC.
Mick Cronin (Cincinnati)
Pros: He's another young coach (42) with an impressive track record. He served as an assistant under Bob Huggins and Rick Pitino before taking the head coaching job at Murray State. In three years there he took his team to the NCAA Tournament twice and won three conference championships. He has served as the head coach at Cincinnati for eight years, earning four NCAA Tournament berths (all in the last four years). In 11 years as a head coach, he has a 231-131 record (64%). His fiery personality would endear him to Vol fans.
Cons: He reportedly makes close to (or over) $2 million a season and could command more than Dave Hart wants to spend. He's from Cincy and went to school there so he might be a long shot even if the money is right.
About The Author